Exploring career opportunities in the horticulture sector
Eden Project Learning (EPL) received a grant of £94,629 in the 2018/19 Edge Grant Fund for their Horticulture Advocates Programme (HAP).
The HAP project aims to inspire secondary school students to explore the range of exciting STEAM (Science Technology Engineering Arts and Maths) career opportunities available in the horticulture sector. Horticulture is a sector suffering key skills shortages and is often viewed as unskilled work and not attractive to young people.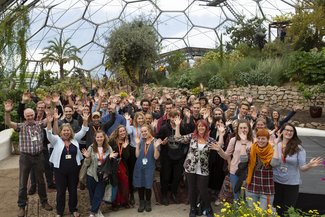 The HAP programme was initially embedded in Project 3000 which hypothesises sustainable solutions to living on the planet. Students worked with a renowned landscape designer to develop a site provided by the Eden Project. Within their designs, students addressed climate change and food shortage issues likely to be prevalent in the year 3000.
Learning about horticulture careers and developing essential employability skills
Working with 5 schools initially, all local to the Eden Project, HAP offers students aged 13/14 a programme of ten HAP Challenges. Each Challenge offers the students opportunities to understand and learn more about horticulture careers and develop essential employability skills. Challenges to date include looking at irrigation systems and water conservation; soil ecology and climate change, biochemistry and micro-propagation; and the challenges of food production. All HAP graduates will have an opportunity to apply for an EPL apprenticeship in due course. With the onset of the Covid-19 pandemic, the HAP challenges are in the process of transitioning to a virtual delivery method – "HAP in a Box".
Creating a national horticulture curriculum and programme of supporting teacher CPD
Eden Project Learning are using the HAP project to develop a national horticulture curriculum and programme of supporting teacher CPD, accredited for delivery in secondary schools. Currently EPL is working on the development of remote learning opportunities to support both the HAP project and their ongoing delivery of degrees and apprenticeships.
'I would like to take this opportunity (HAP) to make my mark in a public place and show how the younger generation can help the world as much as the older.'

HAP Student
'I am keen to be a HAP student, I am environmentally friendly & do the recycling at home & enjoy the sea and paddle boarding with the seals. I live within walking distance of Eden. I'm a tutor captain showing I'm a team player & like to support others by listening & helping resolve their problems. I'm always curious to learn about how things work & happy to explain ideas to my peers.'

HAP Student
'It is really great that we have an opportunity to promote the importance of Horticulture as a potential career for young people! After all, Horticulturists have such positive influence on our day-to-day lives in terms of our nutrition, recreation and mental health. For myself and my colleagues at Eden Project Learning it is wonderful that we can share our passion and help shape skills and knowledge leading to sustainable futures for all.'

Dr James Wagstaffe, Programme Manager BSc (Hons) Horticulture
You may be interested in…