Community Connected Learning (CCL) is a form of experiential learning where students collaborate with external partners to address real-world challenges as part of their broader education.
Through community projects and partnerships, students apply their theoretical knowledge to practice, develop transferable skills and become more life-ready. This type of learning equips students with the knowledge and skills to contribute significantly to society and be leaders of the future in their chosen field and profession (UCL Community Engaged Learning).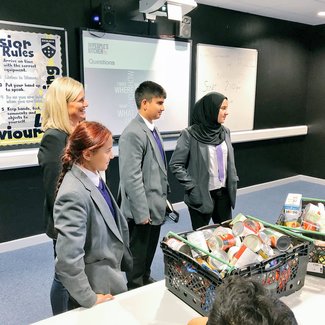 CCL supports deep, authentic, and sustained learning through partnership among employers and community partners, teachers, and students. These systemic and scaffolded series of learning experiences support learners as they move from basic problem solving to more complex and contextualised interdisciplinary project-based learning and eventually to exploration of authentic industry challenges through challenge-based learning (Ford NGL).
CCL draws on a long tradition of practices focused on supporting students to explore social issues, cultivate civic knowledge, build collaborative and leadership skills, and develop their identity as changemakers no matter what career path they choose to follow. Changemaking (Ashoka) – also known as youth social action – is a critical component to CCL. It refers to the many activities that young people can lead to make a positive difference in their communities (iWill).
"We focus on empowering learners to be able to transform both themselves, the community they are based in, and the wider economy."

South Eastern Regional College, South-east of Northern Ireland
"Rather than just preparing our children to be successful in the modern world, we help our children shape the modern world."

XP School, Doncaster
"We put young people in charge whenever we can. For us, a young person's success is as much about their contribution to the community as it is about their academic attainment, but of course academic attainment almost always follows their development as a changemaker…We make sure that every one of our students creates and leads their own projects that benefit the community…We look to develop changemaking skills in everything we do."

School 21, London
"We can support our students with developing the skills they need to communicate effectively and propose solutions to questions and problems they care about. We must also challenge them to take ownership of their actions, passions, and interests in their community. By doing this we can enable them to develop the changemaker mindset."

CREC School District, USA
At the Edge Foundation we have had the privilege of being able to undertake study visits which have not only inspired us, but also helped us to reflect on educational practice. In doing so we have linked directly with Ford Next Generation Learning (Ford NGL) who have an emphasis on Community Connected Learning.
"The training was incredibly useful to gain inspiration and practical tips on how to embed Community Connected Learning in our schools. The support from the Edge Foundation has been invaluable in helping us to shape and design our own challenge events focused on community engagement. As well as sharing fantastic resources and guidance for school projects, the Edge Foundation provided plenty of ideas on how Community Connected Learning can become an integral part of school culture."

Eleanor Evans