Supporting successful transitions to employment and higher level learning
Derby College received a grant of £79,992 in the 2018/19 Edge Grant Fund for their project looking at how embedding problem based learning (PBL) could support successful transitions to employment and higher level learning.
Derby College has worked with a consortium comprising other further education colleges, a higher education institution, awarding bodies and a range of regional employers, to develop curriculum design with PBL at its core. The curriculum covers Levels 1 to 5 and is focused on land-based and engineering sectors.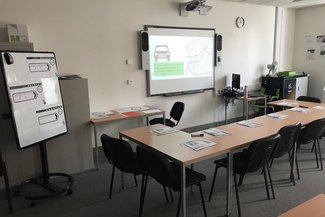 Boost employability skills ahead of graduation
Working with employers and HEIs to co-design, co-deliver and co-assess the curriculum means that students are better prepared to transition into employment or higher education. The introduction of a PBL context to studies has encouraged students across Derby, Loughborough and Leeds City Colleges to better develop higher order thinking skills. Students are able to work directly with employers on real and meaningful projects, whilst employers are deeply engaged with the curriculum and the colleges.
Derby College is also carrying out ongoing analysis of the effectiveness of problem based learning and the supporting curriculum resources. Also through the use of questionnaires and focus groups, the college is able to evaluate how both students and lecturers are reacting to this new approach. A range of lecturer CPD material is also being developed.
"As a local small business owner, I'm looking forward to giving back to the area through a community project, in which we will be working alongside engineering students to improve the quality of our product base through their own creative thinking."

Local employer
"We see the most real-world application through PBL, we are able to prove what we have theoretically learnt and have the opportunity to tailor personal interests and explore real life CV skills."

student
"Traditionally colleges set specific assignments that dictate the boundaries of a student's focus and work but with problem based learning our HND engineering students are pioneering, they will be able to complete parts of their course by taking their own approach to a real-world business issue. We are very excited to be exploring this concept at the College. It's a great opportunity for our students to gain work experience and to really boost their employability skills ahead of graduation."

Staff