What the Project is
Doncaster Chamber received a grant of £100,000 in the 2016/17 Edge Grant Fund for their development of the Doncaster Skills Academy, now re-named Opportunities Doncaster.
Opportunities Doncaster was set up to enhance the work prospects of local young people and to raise the profile of jobs and careers in the local area. This was carried out by enabling meaningful engagement between local employers and young people.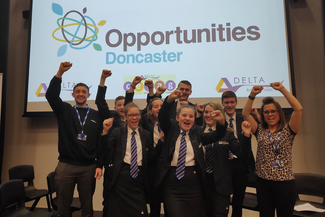 Doncaster Chamber has a long history of working with both local businesses and secondary schools and is perfectly placed to bring young people and employers together through a range of activities and experiences. Opportunities Doncaster provides young people with excellent information, advice and guidance about jobs and careers with local employers. Employers are keen to work with the Chamber to support young people develop the skills and competencies that will help develop their future careers.
Over the course of the project, Doncaster Chamber delivered a series of employability skills days and careers fairs, as well as producing a careers based resources and a train the trainer toolkit to help businesses work more effectively with schools. The Doncaster area is home to a number of STEM and Advanced Manufacturing employers and through the work of Opportunities Doncaster has raised awareness of careers in these sectors amongst students, seeing an increased participation in further & higher education, and take up of apprenticeships.
Quotes
"It was fab because it opened doors for the future and got our children and young people recognized. When can we do it again?!"

Sarah Mulhall, Head of Pennine View
"We value the opportunity to engage with students and inform them of opportunities within our organisation, especially roles that they may not be aware of."

South Yorkshire Fire and Rescue
You may be interested in…