What the Project is
The Edge Hotel School (EHS) received a grant of £100,000 in the 2016/17 Edge Grant Fund to set up their Inspiring Hospitality Careers/My Hospitality Life project.
The Edge Hotel School is the first of its kind in the UK, offering accelerated degree programmes in hotel and event management where students simultaneously put their theoretical knowledge into practice in a 4* commercial hotel. The Inspiring Hospitality Careers project is directed at teachers and career leads in schools and colleges with the aim to raise awareness of the huge range of career opportunities available within the events and hospitality sector – the UK's 4th largest industry.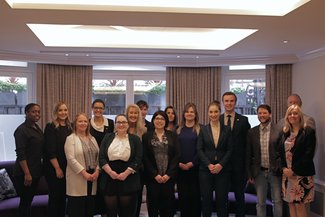 During the course of this project, EHS developed a range of resources for use within workshops and by schools, colleges and careers leaders to demonstrate to young people the types of career opportunities available in the hospitality sector. Almost 10,000 young people engaged with the workshops and resources either in their education institution or through visits to Wivenhoe House, home of the Edge Hotel School resulting in an increase in understanding of roles in the sector from12% to 89%. Over 130,000 people viewed TV personality and Maitre d' , Fred Siriex, supporting the industry and the project in a video.
Following the successful introduction of the programme, the Edge Hotel School were successful in obtaining further grant funding to develop the IHC programme, training hospitality professionals to work directly with schools and host events in their own premises.
Quotes
"I was surprised how much hospitality jobs pay and how many career options there are. Thank you for teaching me about hospitality."

Student
"Before today I didn't understand what hospitality was (job wise). Now I know that hospitality includes things like events. I hadn't considered this as a career before but now I am." Student

Student
You may be interested in…