What the Project is
Grimsby Institute received a grant of £78,650 in the 2016/17 Edge Grant Fund to support Linc-Con Connect – a network of business ambassadors within the construction and engineering sectors.
The aim of the project was to work in partnership with local employers to set up a network of business role models to inspire young people to consider careers in the construction and engineering sectors. The employer network also worked with the college to drive curriculum design and delivery to meet the needs of these sectors and to increase awareness and uptake of apprenticeships. Over 100 businesses are involved in the network as ambassadors, helped by a tiered approach by the college so that businesses were able to commit to the level of support they felt best able to provide. Employers are directly able to education young people about their industry, address stereotypes and highlight the range of career opportunities available.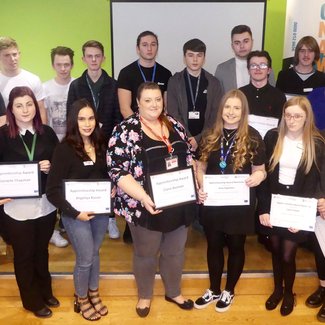 Activities supported by the Ambassador network includes the delivery of masterclasses for students, engagement events, the design and implementation of a new apprenticeship standard for Maintenance Operations Engineering Technician (MOET) and hosting work experience placements. Working with the network, Grimsby Institute also developed a train the trainer Ambassador Toolkit for employers wishing to directly interact with students.
Quotes
"So far, during my apprenticeship I have been given the opportunity to gain qualifications and hands-on practical experience, meaning I am learning academically whist also learning the skills ready to be applied to my job in the future. believe being a woman in engineering is no different to being a man in the same trade, as long as you love the job you're doing! It shouldn't matter about the typical stereotypes of the trade, one in this industry being gender. I think we should encourage more women to get involved and open up to the opportunities in engineering apprenticeships as it is an industry I am extremely proud to be a part of."

Female wind turbine maintenance apprentice
"Engineering is vital to the UK economy and it is an exciting time, especially for young people who will have the skills and attributes to lead us into the fourth industrial revolution.…The MOET standard allows for flexibility and skills development, giving the employer the best chance to develop and grow their own workforce with a true alignment to their business needs…. The standard has been developed by employers for employers and it is inspiring to see how the MOET standard is leading the way as a modern apprenticeship that fits and delivers across so many sectors."

Associate Principal for Engineering, Grimsby Institute
You may be interested in…