What the Project is
St Joseph's RC Academy received a grant of £60,842 in the 2016/17 Edge Grant Fund to support development of Future Ready, a programme run in partnership with the University of Sunderland to raise awareness and take up of higher and degree apprenticeships.
The Future Ready programme engages students in years 12 and 13 to consider apprenticeship opportunities as a route to higher education. Working with local employers, the programme offers students a series of activities hosted by both employers and the University. Activities include visits to employers; visits to the University where students met and worked with current undergraduate students to experience higher education and facilities at first hand; skills sessions where students learnt about and developed employability skills; and guest speakers visiting the school. The programme also helped students source work experience placements with employers, particularly those offering apprenticeships. The Academy also ran an event for parents to showcase the opportunities offered by degree and higher apprenticeships.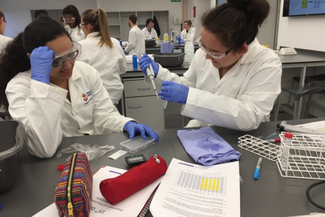 Following the initial run of the Future Ready programme, St Joseph's widened the application of the programme so that all pupils were able to benefit from the skills workshops and visits to the University campus, not just those who had indicated an interest in apprenticeships.
"It has been a pleasure to see the early interaction between St Joseph's Catholic Academy and the University of Sunderland evolve into strong and active relationship. We have created and delivered a number of sessions that prepare students for their choices in how they wish to engage with Higher Education. For some students, this may be the typical undergraduate full-time study route, but for many others a step into the world of employment is preferable. We feel the sessions we provide assist those who find that particular path more desirable, by helping them both identify existing, and develop new, transferable skills. This creates a suitable platform for applying for higher level apprenticeships".

Stephen Goldsmith, University of Sunderland
Find out more
To find out more about this project visit St Joseph's RC Academy's website or contact Suzanne Lewis-Dale, Head of Sixth Form on
You may be interested in…