Developing a national training platform for teachers
Building on the success of the Skills Builder Universal Framework, the Skills Builder Partnership received £50,000 from the Post Covid-19 Revival fund to develop a national training platform for teachers.
The funding will enable the development of an online platform enabling teachers to access free, high quality interactive training on how to teach essential skills. Integrated with the Skills Builder Hub, teachers can access training modules based on the Skills Builder best practice principles to enable them to embed and develop the eight essential skills of Listening; Speaking; Problem Solving, Creativity; Staying Positive; Aiming High; Leadership and Teamwork within their delivery of the curriculum.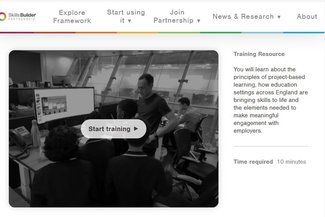 Advanced modules dealing with issues such as skills development in learners with additional needs and preparing young people for apprenticeships will also be available. The Hub also provides a wealth of tools and resources for teachers to use as part of their ongoing curriculum delivery and a means for the teaching community to share best practice on a national scale.
Training teachers on the use of the Skills Builder Framework will transform how young people from primary school to further education can build employability skills as a central part of their education journey.
"I've completed all of the online teacher training modules and found them super useful. Thank you for sharing them. I rated them so much, I have encouraged our Head Teacher to include them in our directed professional development time for the remainder of the summer term for all teaching staff. Such an excellent resource to flag the importance of the essential skills and also to reinforce all that Skills Builder has to offer in terms of other resources too."

Teacher
"The online teacher training looks great. Our teachers respond well to training that they can do in their own time and for their own development. I will send it out to the staff to look at over the summer so that they are ready for September.

It's free too, which is brilliant. I like how it's set out in modules for staff to work through."

Teacher
You may be interested in…