Developing a virtual work experience programme
Tower Hamlets Education Business Partnership (THEBP) is a leading education charity based in the East End of London. They received £24,250 from the Post Covid-19 Revival Fund to develop a "Virtual Work Experience" programme.
THEBP work with over 5,000 business volunteers and over 12,000 young people each year. Their programmes bring together local employers and schools to raise young people's aspirations, develop vital skills and prepare them for the world of work.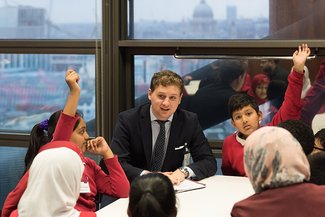 This could revolutionise the delivery of work experience
The funding will enable THEBP to develop a virtual alternative to their programme of face to face interventions. The programme will be hosted on a specially designed platform filled with content that provides sector specific tasks similar to those undertaken by students on work experience. A key focus of the programme will be the setting of a week-long project by the employer. At the culmination of the week, the student will have to present their findings back to the employer.
The experience will provide a mix of phone engagement between the student and their employer partner; a number of specific tasks designed to develop employability skills such as team working, and research; e-meetings with HR and other departments and ending with a presentation on a discrete project to an audience of business people.
Taking work experience online will enable THEBP to offer a wider range of opportunities to young people, including sectors and working sites that may not be physically located in this part of London. If successful, this model could revolutionise the delivery of work experience.
"We are very grateful to the Edge Foundation for their generous donation. This will enable us to develop our virtual work experience programme and ensure that our community of young people are not left behind during this pandemic – when they desperately need support more than ever - or at any point in the future."

Helen Sanson, Director at Tower Hamlets EBP
You may be interested in…