Developing a ground breaking healthcare simulation suite
Yeovil College received a grant of £100,000 in the 2018/19 Edge Grant Fund for their Health Care Futures project.
This project has seen Yeovil College develop a ground breaking Healthcare Simulation Suite within the college estate, delivering project based learning opportunities for a range of learners aged 14 and upwards.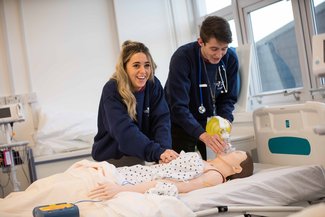 Project based learning opportunities for 14 year olds and upwards
Healthcare is a sector experiencing crucial skills shortages and whilst seen as an attractive career option, young people often struggle to identify and understand the range of careers available within this huge sector.
The Healthcare Simulation Suite enables delivery of scenario based practical learning, allowing students to develop not only the technical skills needed for a career in health and social care, but also the essential employment skills like teamwork, communication and problem solving, working alongside current healthcare practitioners from Yeovil District Hospital. The relationship between the College and the Hospital also provides students with real work experience opportunities.
Mannequins are used to simulate heart attacks
The Suite is used by students from level 2 to level 5 across a range of health & social care, nursing and midwifery courses. A resource particularly helpful to students are state of the art "nursing Annies" - life sized and realistically weighted mannequins which can simulate real vital signs. Using programmes operated via a simple IPad, the mannequins can be manipulated to demonstrate scenarios such as faints, high blood pressure and heart attacks. The operator can increase the patient's breathing, heart rate and blood pressure, make them "speak" to the nursing staff to describe pain, ask and respond to questions.
Raising awareness of careers in the healthcare sector
The Healthcare Simulation Suite is not only used by Yeovil's current students but is also used for school visits – raising awareness of careers in the sector with secondary school pupils.
"The Edge investment into our Skills Room has enabled me to begin the development of resources, activities and problem-based learning that will mean all learners have greater opportunities to bridge the link between theory and practice. All learners will benefit from Level 1 to Level 3 Health & Social Care and Health T Level students to the adult learners on our Access programmes and Level 5 Assistant Practitioners. Whilst placement opportunities are currently reduced due to the pandemic, we are planning employability and clinical skills scenarios with our team of registered professional staff so that learners are not disadvantaged as they might otherwise be."

Nicola North – Yeovil College Lecturer and registered Midwife
"As a future paramedic, it has been helpful to practise resuscitation scenarios using the defibrillation trainer on the manikins.

The Skills room has offered lots of amazing practical opportunities alongside the written coursework which has been brilliant."

Level 3 Health & Social Care Student Lewis Burton
You may be interested in…