Huge range of career opportunities in the events and hospitality sector
The Edge Hotel School (EHS) received a grant of £65,000 in the 2018/19 Edge Grant Fund for their Inspiring Hospitality Careers/My Hospitality Life project.
The Edge Hotel School is the first of its kind in the UK, offering accelerated degree programmes in hotel and event management where students simultaneously put their theoretical knowledge into practice in a 4* commercial hotel. The Inspiring Hospitality Careers project is directed at teachers and career leads in schools and colleges with the aim to raise awareness of the huge range of career opportunities available within the events and hospitality sector – the UK's 4th largest industry.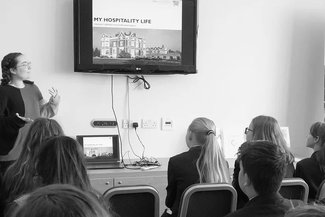 Learning resources developed with the hospitality industry
Inspiring Hospitality Careers provides a suite of learning resources which support GSCE, A level and BTEC students of hospitality and business management, together with a programme of teacher CPD. The resources have been developed with industry and reflect the knowledge and employability skills needed in real life. Resources include a series of interactive games where students have to manage a hotel – dealing with staffing, financial and marketing problems to ensure the hotel becomes profitable.
Experience the Edge Hotel School and the 4* Wivenhoe House Hotel
Students and teachers involved in the project have the opportunity to visit the Edge Hotel School and its partner the 4* Wivenhoe House Hotel. In the future, EHS hope that Inspiring Hospitality Careers events can be run by industry professionals at hospitality venues around the country.
The hospitality sector is crucial to the UK economy yet suffers from skills shortages and a poor perception of the skills and professionalism needed to operate in the sector. Inspiring Hospitality Careers can open young people's eyes to the wealth of high skill, high pay opportunities in this global sector.
"The session was really well explained. Before I didn't know anything but now I do! I am now interested in this!"

Student participator
"I am very excited...to be embarking on this game changing initiative for UK Hospitality and taking what makes our industry great to the UK schools in partnership with the Edge"

Hospitality employer
"This was by far the most useful CPD I have done in years…the games used today were great and will be used in future lessons of mine. This was an eye opening experience of the hospitality industry and will definitely be shared with my business students."

School careers lead
You may be interested in…