Edge Future Learning supports schools and colleges to broaden and transform education, making it relevant to the twenty-first century.
Building on our strong evidence base, policy development, and portfolio of innovative projects, Edge Future Learning helps schools and colleges to try these exciting new approaches. We focus on building community and capacity - from professional development and training, to community-building and grant funding.
You can click on each of the areas to find out more.
Our Network
We work closely with our Edge Future Learning Leaders - pioneers of effective, innovative approaches across the UK - to distill learnings and help others to adopt and adapt good practice.
Our wider network of Edge Future Learning Partners brings together leading experts from across the world whose insights and training can support you to embed deeper learning within your school or college.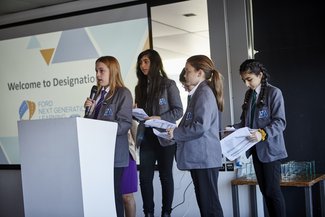 EFL Training
Alongside our resource library, we offer a variety of live and on-demand training and events related to the three principles. We can also work with your team to create bespoke CPD, training, and coaching in collaboration with our EFL Partners.
The official launch of Edge Future Learning
On 23 June, Edge co-hosted the first online XPosé Conference with XP Trust. The event also marked the official launch of Edge Future Learning (EFL). Find out more about the conference and launch.
Get support
Edge Future Learning is here to support, share, inspire and be with you every step of the way, from planning your first project or expedition to transforming education through the power of relevance.
Under each of the segments of our model, you'll find training opportunities, links and examples to help you get started. Explore what we can offer and get in touch to find out more about the support we can provide.