Kate Dawson is an entrepreneur and business woman. Ten years ago she launched The All-in-One Company literally creating the first onesies. If you've ever watched Dancing on Ice, Big Brother or the X Factor on the television, chances are you will have seen one. Kate recently teamed up Churchill Community College, in Wallsend, who are piloting project-led learning in partnership with local employers, part of our Edge Future Learning in the North East. She tells us how it's been going.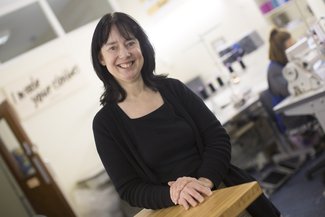 I have been working with the amazing Tom Gallon, Churchill's Industry Alignment Manager, on 'Teaching through the lens of Industry', which aims to bring learning to life by showing its relevance to the world of work. Churchill is one of three schools in the area piloting this innovative and value- adding approach to teaching, learning and development as part of the North East Local Enterprise Partnership's Education Challenge. The aim is to better engage students and align learning closer to industry needs.
As a nursery nurse and a mum, this approach to education really appeals to me. It's hands-on, young people can see the relevance of what they're learning to the real world, get involved and get some insight into the sort of careers available to them. Even if they don't alight on a chosen profession, at least they are able to make better informed choices. If it's not for you then you've saved a lot of time and heartache and can quickly refocus. Win-win!
Tom asked me to visit their textile class and it was such an enjoyable morning. I spoke about my idea for the business and how it came about because I needed a onesie for my daughter Lilly; she was too old to wear baby grows, and I couldn't find an all-in-one on the high street for a 3-4 year old in 2004. 
My need turned into a successful company which launched in 2008, The All-in-One Company, where you can Create-Your-Own Onesies. You become the designer and we hand-make your creation here in the UK and deliver worldwide.
After showing the students photos of some of the celebrities that have worn our onesies, and the TV shows that have featured them, I set the class a challenge; to think of what is missing in their everyday lives and what garment or accessory would make a difference to them.
Immediately the class started sketching some ideas and writing notes. There was a real buzz in the room and a great exchange of ideas as they discussed how they could be created. I was only supposed to be there to set the challenge, but I ended up staying for the second part of the lesson, listening to their ideas and talking through how their ideas could be designed and manufactured. I loved every minute!
The second step of this fantastic project was for the class to visit our premises for a tour of the factory to see how the onesies are made. One girl, who was incidentally the first through the door when they arrived, was really keen to discuss the possibilities of an apprenticeship with us. And that's what this all about; the engagement, finding out about the different companies in the school's local area and making them more accessible, changing work opportunities  from the unknown into the known and then even the desirable. 
By inviting students in, we encourage the connection with new ideas and new generations wanting to make their mark on the world. The students witnessed for themselves the different job roles and the skills required, not only academic ability, but people skills, team work, collaboration and understanding. 
Feedback from Tom and Chloe, the textiles teacher has been fantastic. They told me that they have had lots of interest for our up and coming apprenticeship scheme and the students have been really motivated by the interactions both at school and in the workplace.
I would thoroughly recommend this way of education for all children and from an employer's perspective it's a great way to tap into your local talent pipeline. I have found it to be a totally enjoyable experience for everyone involved, including our team members who loved showing the students what they do and why they do it.
You may be interested in…