Doncaster Chamber, an Edge Grant Fund recepient in the 2016/17 round have continued working with all secondary schools, Colleges and SEND/PRU provisions in Doncaster and are now looking to provide more support to primary schools moving forward.
In February the Chamber organised the first Doncaster Careers week - a full week dedicated to bringing business and education together. The week also included Opportunities Doncaster Live, a careers fair bringing together over 4,000 students and 100 locl businesses in just one day. Alongside this, the Chamber designed resources and supporting teaching packs, the Doncaster Promise is certainly thriving, with plenty of support from local businesses that are keen to mentor and support young people into the world of work. A series of Doncaster Alumni videos have now been commissioned to show young people just how successful you can be living and working in Doncaster. Edge are glad to see that the project has come a long way since our funding three years ago.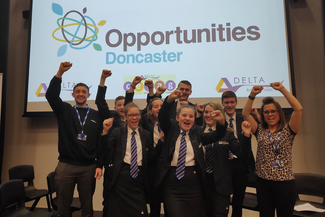 Moving forward the the Chamber are in the process of looking at innovative school support for the next academic year, building on what they've learnt and shaping it to ensure it meets the needs of each school from leadership to teacher and student on all things careers.
Of course plans for Careers Week 2021 are already in full swing. 
You may be interested in…