Yeovil College are at the forefront of an exciting initiative to support the development and training of future health and social care workers.
Supported by a grant from the Edge Foundation, Yeovil College has created a fully functioning healthcare suite in the footprint of two traditional classrooms. A wide range of students are now utilising this innovative resource, from Level 2 and Level 3 Health & Social Care studies to Level 5 Assistant Practitioners – in collaboration with Yeovil District Hospital.
The fully kitted out suite enables the college to deliver scenario based practical learning, allowing students to develop not only the technical skills needed for a career in health and social care, but also the essential employment skills like teamwork, communication and problem solving.  
A group of Level 3 Access to Nursing and Midwifery role played a nursing shift changeover meeting scenario to emphasise the need for clear communication. In a twist, some of the students were asked by the lecturer to be less than complimentary about the "patients" in their care. This enabled the students to witness how opinion impacted on facts and therefore on to behaviour. It also facilitated a whole class discussion on the need to always model excellent professional behaviour and leadership skills within a nursing career.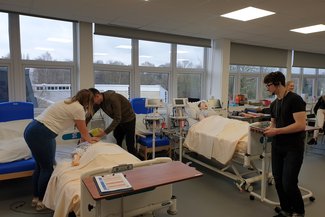 Later first year Level 3 Health & Social Care students practised patient observations. First they practised on each other, taking pulse rates and blood pressure readings before and after exercise to experience how the body reacts to physical exertion and how it recovers to resting rates.  The students were then able to make use of the state of the art nursing "Annies". These are life sized and realistically weighted mannequins which can simulate real vital signs.  Using programmes operated via a simple IPad, the mannequins can be manipulated to demonstrate scenarios such as faints, high blood pressure and heart attacks.  The operator can increase the patient's breathing, heart rate and blood pressure, make them "speak" to the nursing staff to describe pain, ask and respond to questions. The college plans to build an observation booth within the Healthcare Suite so that the operator can be more remote and the student experience even more real.
The Healthcare Suite is not only used for the college's own students but also to host school visits to raise awareness of the huge range of health and social care careers available.
Yeovil College works very closely with Yeovil District Hospital, situated very close to the college campus. This relationship has enabled the college to recruit current registered practitioners on to their teaching staff and also to use the hospital to provide real work experience to their students.
For more information about this excellent initiative please contact Elle Wintersgill on elle.wintersgill@yeovil.ac.uk or visit https://www.yeovil.ac.uk/.
You may be interested in…