There's no doubt that 2020 has forced a rethink across the educational sphere. Part of our mission at Edge is to find institutions that are successfully shaking things up. In the Higher Education space, this has taken us half way around the world to places like the Minerva Schools in California, a private university that's doing fantastic things with virtual learning.
The pandemic means we've had to continue that journey online. We recently took a virtual study trip to Quest University, located in the mountains outside Vancouver. Canada's first independent, non-profit, secular university, Quest is doing things completely differently. We spoke to President and Vice-Chancellor, George Iwama, and Chief Academic Officer, Jeff Warren, to find out more.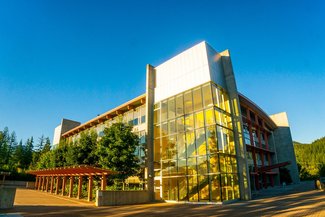 In a world where tech is often seen as the silver bullet of educational reform, Quest has made even more fundamental changes to their curriculum. Founded in 2007, with around 700 students, all graduates from Quest leave with a Bachelor of Arts and Sciences. This degree is unusual in Canada (and indeed the UK) but it reflects the breadth of learning that the university offers.
Over four years, Quest students take an impressive 32 courses. To achieve this, course delivery is via an intensive three-and-half-week block. This includes seminars, presentations, discussion, self-directed study and experiential, project-based learning. The block model is vital to Quest's approach. It offers high-intensity learning while permitting students to take study trips abroad without needing to worry about missed classes back home.
All first year students take common courses, such as "Cornerstone", a microcosm of their four-year journey. It begins with a question "What is knowledge?" and introduces the university's learning approach by exploring and debating the answer from multiple angles. Students might read Plato, carry out scientific research or study mathematical proofs. Everything they do aims to provide as broad a perspective as possible.
Students in years one and two take a total of 16 foundation courses, selected from five divisions: Life Sciences, Physical Sciences, Arts & Humanities, Mathematics, and Social Sciences – once again the watchword is breadth. Moving away from conventional departments encourages cross-pollination, fundamentally reshaping the curriculum. Each course helps students develop the broad skills and behaviours needed for life during (and after) study.
How does this look in practice? Well, few courses at Quest need prerequisite knowledge. The university doesn't offer lectures, only face-to-face seminars. Courses are encouraged where two staff members from completely different disciplines work alongside each other. Without a standardised instruction model, tutors are free to select their preferred approach. However, their primary role is to support students in shaping a personalised learning experience.
For instance, rather than learning historical mathematical proofs from a textbook, students might carry out contextual exploration work before a seminar, discuss their activities in the session and then create the proof themselves using the materials available to the original mathematicians. This active, project-based approach – a key part of Quest's pedagogy – encourages critical and creative thinking. It also creates and a sense of ownership over one's learning.
At the end of year two, all students take another key course called "Question". Here, they design their own major, shaped as a question. Through discussion, peer interrogation and presentation, students must convince two faculty members of their project's viability. They self-select courses to help them explore their Question further. The result is a two-year self-developed study plan, culminating in a Keystone project at the end of year four. This can take many forms from a conventional thesis to a research paper, an art piece or an album. So long as it aligns with their Question, there are no constraints.
So what kinds of questions do students ask? They are diverse, often personal. But they always promote a broad range of knowledge and life skills. One mentioned during our discussion was: "What is the nature of olive oil?" While this sounds exact, the student ended up studying international politics, finance, nutrition, chemistry and material sciences. Their experiential learning – another vital aspect of study for all third and fourth years – took place at an olive oil producer in California. The student was subsequently offered a job.
In the words of Jeff Warren: "There are as many majors at Quest as there are students." The university's approach shreds the idea of one-size-fits-all learning. And the results are clear. Student engagement scores are significantly higher than the national average. Graduates go on to careers in neuroscience, product design, government policy and more.
While Quest has, of course, tackled the major challenges faced by many new institutions, few of these are related to their learning model. The message to UK Higher Education? Pay close attention: this could be the future.
Want to find out more about innovation in Higher Education? On 02 December 2020, Edge will host a research symposium exploring three further innovative HE models in the UK: Edge Hotel School, Cardiff University's National Software Academy and Degree Apprenticeships.
You may be interested in…