As a science teacher for children with autism and social, emotional and mental health needs, engagement in the classroom can be tough. But it's also important – many of our students need extra preparation for the world of work. In the last few years, Silverdale School (where I work) has made a big push to embed careers in the curriculum. While we've timetabled specific careers lessons, we also wanted to tie careers directly into the subject curriculum. To do this I was excited to be chosen for an employer externship (supported by Edge and the European Social Fund North East Ambition project) at the offshore engineering company, Osbit.
Located just outside Newcastle, Osbit specialises in areas like deep sea mining and wind farms.
As a science teacher, this was very cool. Osbit's team was really enthusiastic and had loads of schematics and technical information to share. However, it quickly became clear that a lot of the work they do would be too complex for my students to grasp. Even discussing renewable energy is a big step away from their lived experience, let alone the technical stuff.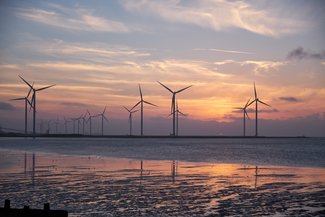 As the only specialist teacher on the visit, though, the Osbit guys were great.
They listened to my concerns about the students' needs and helped me figure out how to capture the spirit of engineering without getting overly technical. What leapt out was their engineering process. Osbit uses a 'plan, do, review' cycle in all their work. They troubleshoot a problem, devise a solution, review the output and then go back and troubleshoot again. This was something I could see transferring really well into the classroom.
After my visit, I produced project based learning resources, incorporating Osbit's process. The students had already studied sustainability so I took inspiration from the company's renewable energy work. There are several companies producing wind turbines in north east England and I wanted to link the project to local jobs.
Engaging students on the content was an interesting challenge.
We do lots of drawing and visual work at Silverdale, so I decided the best approach was to lead with creative activities, which would hopefully result in students connecting with the subject matter. I made the lessons as wide ranging as possible, with lots of experiments and role plays. One lesson was more practical, for example, while another looked at the social sciences aspect of renewable energy.
Were the lessons successful?
Definitely. Kids often fear getting something wrong. But with Osbit's process embedded into my lessons, it's OK if that happens now. I can say: 'Listen, this company gets things wrong all the time and they've got the smartest engineers in the country!' Allowing this space boosts the kids' confidence, giving them freedom and ownership over their learning.
Many students really engaged with the content, too. One pupil is obsessed with sustainability now, which is great to see. I'm reusing the resources this year, tweaking them as I go. We spent a lot more time on the practical lesson, for example. The students loved the 'plan, do, review' approach and wanted to go back and redraw everything. You don't want to stifle that. Now, when we do experiments, I get a lot more 'what if I do it like this? what happens if?' type questions. Those with autistic spectrum disorder often need to do things in a very particular way, so these kinds of questions feel like a huge win.
Silverdale's a small school – there's only one other science teacher.
But I shared the resources with her, too, and with Edge. When I took the externship, there weren't many specialist schools involved in the project. I'm proud my work can be used as an example to inspire other schools. And, of course, I also shared the resources with the careers staff. My job, as I saw it, was to open the students' eyes to the fact that this industry exists. After that, the careers team can help them explore and do mock interviews, that kind of thing. The externship has had great knock-on effects all round.
Overall, I think teachers can easily get bogged down by a curriculum 'to do' list. The externship reminded me to reflect on my personal practice. Students don't want to watch me teach – they want to work together. In general, I do more experiments and practical work now. It's far more organic than the old way and it's refreshing to remember that the best learning experiences often happen when you deviate from the plan. I hope Silverdale can offer externships to more of our teachers in the future. If anyone gets the opportunity… grab it!
Steven Swales is a science teacher at Silverdale School in Tyne and Wear.
You may be interested in…