Wendell Park Primary School in West London, recently ran a Skillsbuilder Challenge Day. The Skillsbuilder framework supports teachers to build essential skills into young people's education. Eight essential skills - listening, presenting, problem solving, creativity, staying positive, aiming high, leadership and teamwork are broken down into 16 tangible, teachable and measurable steps. The steps are age and school year appropriate so the Skillsbuilder framework can be used from Early Years upwards.
This Challenge Day was particularly impressive as the whole school from nursery up to year 6 took part in the Future Transport Challenge. The pupils first had to think about the transport problems that would face Earth in the future using their listening and presenting skills, then working in groups design and then make a model of a new form of transport – practising their teamwork, problem solving and creativity. The pupils rose to the challenge, designing and making monster trucks, eco-submarines and aircraft with folding wings.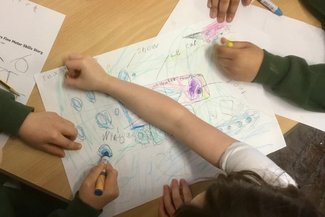 Challenge Days are one of a number of options open to schools signing up to Skillsbuilder. Schools also get access to a resource hub containing videos, presentations, projects and display materials as well a range of assessment tools where teachers and pupils can see how essential skills are being achieved and developed. All resources have been created by Skillsbuilder and piloted in schools before being released.
Teacher training is also provided focussing on pedagogy – including the 6 Best Practice Principles, how to implement the Skillsbuilder framework, and how to get the most from the assessment tools. Schools are encouraged to appoint a lead skills teacher to champion the embedding of skills into the curriculum.
The Skillsbuilder framework supports teachers and pupils to embed the language of skills into their education and everyday life, enabling young people to develop the essential skills to help them progress through education and on into life.
The Skillsbuilder approach to embedding essential skills through project based learning is supported through the Edge Grant Fund.
For more information about the Challenge Day, visit the Skillsbuilder website or contact, Rosa Morgan-Baker.
You may be interested in…