19 October 2023 14:30 – 16:00
Watch the webinar on demand
Chair Sir David Bell Speakers: Lord Jim Knight, Prof Prue Huddleston, Nicola McLeod, Ian Pryce CBE.
Following the Tomlinson Review in 2003-4 and a White Paper in 2005, 14-19 Diplomas were launched in September 2008. These new qualifications were designed to bridge the gap between general and vocational education, giving young people the opportunity to study a broad and balanced range of subjects through the lens of a particular sector. Available across 14 lines of learning and at three different levels, Diplomas were one of the biggest and most ambitious changes to the education system in decades.

Despite almost £300m of investment, Diplomas were brought to an end with the change of government in 2010, with only a few thousand young people ever taking the qualifications. Some people have called this the greatest missed opportunity of educational change in the last thirty years.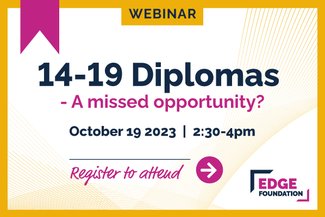 Our stellar panel of colleagues who were deeply involved at the time looked back but also looked forward, thinking about the lessons we can learn from this important policy for today and for the future
Meet the chair

Sir David was born in Glasgow and educated in his local comprehensive school. He took degrees at the University of Glasgow and obtained his PGCE from Jordanhill College of Education.

In a career spanning over 40 years, Sir David has held a number of major posts across the education system. Between 2012 and 2018, he was Vice-Chancellor at the University of Reading. Previously, he was Permanent Secretary at the Department for Education for six years, serving four Secretaries of State and three Prime Ministers. He served as Her Majesty's Chief Inspector of Schools for nearly four years and was Director of Education and Libraries with Newcastle City Council in the 1990s. He was also a Harkness Fellow based in Atlanta, Georgia for a year.

In 2020, Sir David was made a Deputy Lieutenant of the County of Tyne and Wear. In the same year, he became the non-executive chair of Karbon Homes, a large social housing provider in the North-East of England and Yorkshire.

Among other non-executive roles, Sir David is a trustee and advisory board member of the Higher Education Policy Institute (HEPI) and a governor of the Royal Shakespeare Company (RSC).
Meet the panellists

Ian Pryce has been Chief Executive of The Bedford College Group since 1998, having joined the College in 1996 as Finance Director. He was previously a regional Finance Director at the Further Education Funding Council and has also worked as a Director or Senior Manager in retail, electricity generation and local government in Liverpool, Derbyshire, Nottingham and Northamptonshire. He is a fellow of the accountancy body CIPFA and a Syndic of the University of Cambridge. He was one of the founder members of the 157 Group, founding Chair of the Bedford Free School and was awarded a CBE in the 2011 Queen's Birthday Honours. In August 2017 the College merged with Tresham College and in 2023 merged with Central Bedfordshire College. Ian is also a national leader of further education and a member of the FE Commissioner's Principals Reference Group.

Prue Huddleston is Emeritus Professor and formerly Director of the Centre for Education and Industry, at the University of Warwick; she has a particular interest in the 14-19 curriculum, focusing on vocational education and qualifications and work-related learning; she has published widely on vocational learning and applied pedagogy. Before joining the University of Warwick, she worked within the FE sector, as a teacher and manager, also within community and outreach education.

She is a Governor and Chair of Academic Quality and Standards Committee at Birmingham Metropolitan College. She is a member of OCR Standards Advisory Group; City and Guilds Quality and Standards Committee; Royal Academy of Dance Education Sub-Committee and on the Editorial Board of the Journal of Vocational Education and Training. She is Special Advisor to the charity Education and Employers.

Jim Knight, The Rt Hon Lord Knight of Weymouth, works in education, digital technology and as a legislator.

He is a director of Suklaa Ltd, providing advice to clients in education.

Jim is the Chair of trust board of E-Act Multi Academy Trust, and chair designate of the Council of British International Schools. He is a board member of Century-Tech, MACAT International and Educate Ventures Research Ltd, he sits on advisory bodies for Nord Anglia Education, Pearson and BETT.

As a government minister and MP, Jim's portfolios included rural affairs, schools, digital and employment. He was a member of Gordon Brown's Cabinet, before joining the Lords in 2010. He regularly speaks in the Lords on education and technology policy.

Nicola McLeod enjoyed 13 years teaching and leading in three secondary schools across Greater Manchester and spent a period seconded to a regional collaboration around the 14-19 Diplomas in Rochdale. Nicola went on to spend a short time working in Salford supporting the Local Authority to deliver on 14-19 Diploma implementation and developed the the raising of the participation age strategy. As part of the 14- 19 legacy, Nicola spent time working for New Economy, developing a sub-regional approach to youth participation including a strong focus on careers education, advice, and guidance. Nicola now works as Assistant Director for the Greater Manchester Combined Authority's Education, Work and Skills Team supporting the implementation of the Devolution Trailblazer Deal for post-16 and delivering on the Mayoral ambition for an integrated technical education city-region including the Greater Manchester Baccalaureate.

Andrea Laczik has been working at Edge since 2017 and now leads Edge's research work. She has over 20 years of education research and policy evaluation experience while working at Oxford and Warwick Universities and Edge.

Her broad interests cover Vocational Education and Training (VET) and apprenticeships at all levels, employer engagement in VET and general education, skills development, innovative/alternative higher education, youth transition and trajectories and provisions for young people and adults from disadvantaged backgrounds. She has also conducted research, for example, about the disadvantaged/disengaged group of young people, SEND group, health education in schools. She has an active interest in international and comparative research.

Andrea has an MSc and a DPhil from the University of Oxford, Department of Education where she holds an Honorary Research Fellowship and she is a Fellow of the Higher Education Academy.