This year The Edge Foundation proudly sponsored the Young Student of the Year Award. The award shines a light on individuals who have made a significant impact in their college and community.
Edge is pleased to announce Kizzy Wade, a Level 3 Media student at Selby College as this year's winner of the Young Student of the Year Award.
Kizzy thoroughly deserves the award for her commitment to raising awareness on issues such as disability and mental health.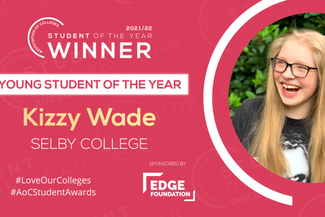 Kizzy, a keen poet and spoken word activist, whom herself lives with Spastic Quadriplegic Cerebral Palsy and OCD, admits she has often faced difficulties accessing the arts, but this has never stopped her breaking through her physical limitations to create art.
"Writing poetry has given me the time to be self-reflective about how I can move forward with my disability and how I can use my poetry to help others who are in a similar situation. That is why I always aim to address the difficult topics that my generation is facing within my writing, in the hope that it will help to change the attitude and outlook of my readers," said Kizzy.
At only 17 years old, she has already made great strides in the poetry industry by hosting her very own Edinburgh Fringe show, as well as writing poetry books and fundraisers for charities such as Guide Dogs, the House of Bread and Smile for a Child.
We're delighted to be able to share one of Kizzy's poems below:
When discussing disability people talk about coming to terms with it,
But they talk about it as a one time thing, And although somethings never change,
Like the physical implications of the issue,
What that means for your life and how you live it changes greatly,
And how that effects a person at certain ages also alters.
For example, I can't walk,
I'm currently aged seventeen and it effects me differently to how it effected me at six,
Now it's all about the way it limits my independence,
Whereas then it was about my inability to scoot,
Although the latter may seem trivial now it was as big a deal to me then as independence is now,
But at that age when I was working through my scooter obsession I didn't have the foresight to think about teenage freedom.
Our priorities change and so do the barriers that face us,
That's just the ever growing nature of life and its milestones,
But unfortunately that means that just as we settle within our own capabilities the barriers get closer to home,
So we have to keep realising what we can and can't do,
We have to keep finding ways to understand, beat and get around our disabilities,
We have to keep dealing with complex feelings of anger and sadness.
Priorities aside something needs to change,
The way we, as disabled people talk about this,
Let's stop answering with sarcastic parking quips when friends ask what our situation feels like,
We're trying to get attitudes to change, not a BGT golden buzzer,
Let's disregard the mood of the room,
And tell the truth.
Let's tell them how most days you realise a new can't,
And it's only on occasion you realise a new can,
Let's tell them how it feels to have a mind that operates at one hundred miles per hour,
And body that barely accelerates to one,
Let's tell them how it feels to be able to achieve the extraordinary,
But never the ordinary.
If this has felt like a moan I'm not sorry,
It's just I think seventeen years without a solitary toilet trip gives me a unique perspective,
That might open some frank conversations,
About real experiences,
Without fake smiles.