On Friday 18 January 2019 local MP Chi Onwurah heard from children who have been working with local employers as part of an initiative to transform learning in the North East.
National education charity the Edge Foundation, have partnered with the North East Local Enterprise Partnership (LEP) to pilot the teaching model in three schools in the region. They invited Chi Onwurah, MP for Newcastle upon Tyne Central, to meet students and teachers from Excelsior Academy in Newcastle, Norham High School in North Tyneside and Churchill Community College in North Tyneside, who began projects in September last year.
Students in years 7-9 have been learning about subjects like local history, digital technology and sustainability via projects run in partnership with local businesses. The approach encourages children to develop critical skills such as team-working, communication and problem-solving, see the relevance of what they learn to the real world and gives them insight into the world of work.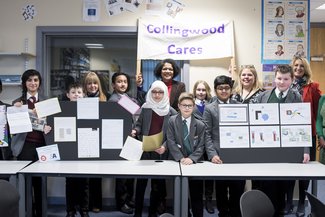 'It was truly inspiring to hear the students talk about their projects; the pride and sense of achievement shone through. I'd like to praise the schools which took part and the dedicated teachers who invested their time.  The structure of our economy and the challenges society faces are changing; young people need to be equipped to be active citizens with the skills to succeed in jobs that have yet to be defined. Skills such as problem-solving and team-working, creativity and resilience, promoted by this approach, are what is needed to enable the economy in the North East and beyond to adapt in a competitive and ever changing world.'

Chi Onwurah MP
'We are bringing together all our research, the most robust evidence and best practice pedagogies from the around the world and want to share this with schools in the UK as part of Edge Future Learning. The projects the students did last term have been tremendously successful and the feedback from teachers, students and their parents and carers has been overwhelmingly positive. We want to shout about this and invite other schools in the North East and beyond to join this transformation.'

Alice Barnard, Chief Executive, Edge Foundation
'The North East is leading the way in piloting this new approach to learning in our schools and it's fantastic to be able to demonstrate the impact this is already having on pupils' engagement and attainment. By bringing schools together with local employers we hope to transform outcomes for young people in the North East.' 

Neil Willis, Education Challenge Project lead at the North East LEP
You may be interested in…