Institution Information
Basingstoke College of Technology
Further Education College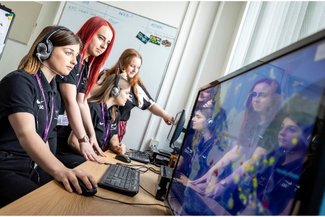 Practices Identified
The college has created a unique digital team made up of creative specialists, subject specialists and learning technologists
The digital team work closely with industry to identify relevant digital tools necessary to bring into the college
Practice Description
BCoT has put digital technology at the heart of its college and this was visible during the visit. The college has created a unique digital team made up of creative specialists, subject specialists and learning technologists. The digital team's role is to train and develop the digital skills of staff and students across the college. Students who have demonstrated technology skills were asked to become 'digital leader' volunteers. The team then worked alongside lecturers to help them develop digital resources. Over time, the digital team has grown by bringing on two learning technologist apprentices to continue working with lecturers to develop digital lessons and assist students during their blended learning lessons.
In 2016, the college introduced an hour of blended learning for every course, where students visit blended
learning zones to practice their digital skills. In this hour lecturers would have developed assignments on Google Classroom for students to work on. Additionally, the digital team work closely with industry to identify the current digital tools being used in the workplace and across sectors. This helps the team bring in digital tools into the classroom and guarantee students are learning the relevant technology needed in industry and become workplace-ready throughout their college experience.