Institution Information
BluLever Education
Apprenticeship (artisan) training provider
Innovative startup training provider focused on developing holistic vocational education including transferable skills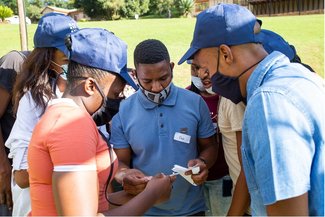 Practices Identified
Building transferable and employability skills throughout an apprenticeship as they are so important to employers.
An initial 8-week 'base camp' giving potential apprentices and employers a chance to test out the opportunity.
Practice Description
In South Africa, youth unemployment is 55%. BluLever Education, a Johannesburg-based education startup, hopes to reduce this by offering targeted training for in-demand vocations, beginning with plumbing.
The founders have found that employers are keen to take apprentices (known as artisans in South Africa) but generally find that they lack the right mindset, technical and employability skills. To rebuild employer confidence, BluLever launched an intensive 8-week readiness programme, called Leadership Base Camp.
Throughout this opportunity, candidates attend a 4-week fully residential base camp where they learn core life and work skills. Next, they spend four weeks studying on campus and shadowing a qualified plumber. By exploring plumbing before committing to an apprenticeship, candidates can decide if they are suited to the profession.
Once selected, apprentices access accredited technical training, combined with vital employability and soft skills through project-based learning so that this theme continues as a key part of their apprenticeship.