Institution Information
South African Renewable Energy Technology Centre (SARETEC)
Higher Education, working with Further Education (TVET) Colleges
South Africa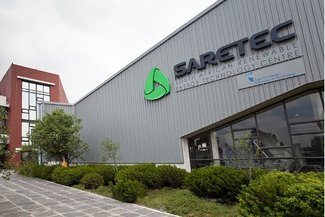 Practices Identified
Training young people for renewable energy roles using cutting edge technology.
Clear partnerships with industry steer the number and focus of trainees, who are matched with an employer before starting.
A hub-and-spokes model with the HE institution leading and working with Colleges across the country.
Practice Description
The South African Renewable Energy Technology Centre (SARETEC) is a Higher Education programme at the Cape Peninsula University of Technology. SARETEC offers accredited training to technicians who wish to specialise in the green sector. Their campus includes state-of-the-art labs covering a range of green technologies, from hydraulics to wind turbines and solar voltaic panels.
SARETEC's top priority is supplying graduates that meet industry demand. Industry helps to identify how many technicians are required and what skills they need. Subsequently, their industry partners also help select appropriate candidates and directly shape the centre's training materials.
However, SARETEC only has one campus. To meet demand, they partner with vocational training (TVET) colleges around the country. Their 'hub-and-spokes' model involves identifying colleges with the basic infrastructure that can assist with programme delivery. Industry then provides the necessary renewable energy elements.
The learner experience itself involves minimal classroom learning. The majority of training is delivered via lab work or through employer placements.