Institution Information
Metro Nashville Public Schools
Public High Schools (age 14-18) across Nashville.
All students in Nashville's High Schools are taught through this model.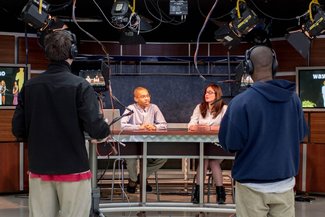 Practices Identified
Very close involvement of local employers in all aspects of planning and delivery of education.
Career Academies teach students a broad range of subjects 'through the lens' of an industry to show their relevance.
Rich structured employer engagement opportunities for every student.
Practice Description
Concerned by their low rate of high school graduation, in 2005, Metro Nashville Public Schools began working intensively with their business community and Chambers of Commerce to redesign their education system.
Each High School is broken up into several semi-autonomous schools-within-schools called Academies. Students enter High School in the 'Freshman Academy' were, alongside subject lessons they spend time developing their wider employability skills and exploring the range of industries and jobs in Nashville.
This helps them select their Career Academy for their final three years in High School. Focused on one of the growth industries in Nashville, the Career Academy sees students taught lessons 'through the lens' of that sector. So students in the medial academy, for instance, would still get a broad education, but in maths they might learn through temperature graphs and dosage, while in history they may look at the way in which medicine evolved over the last century.
Combined with a rich range of employer engagement and teacher externships, this helps to bring the curriculum to life by emphasising the relevance of every lesson. Graduation rates have risen from <60% to >80%. Find out more.