It's been over a year since the UK first went into lockdown as a result of the Covid-19 pandemic and the feeling of uncertainty about the long-term impact of the virus on the country's economy is stronger than ever.
Unemployment today is nearly a full percentage point higher than the previous year with 1.67 million people now unemployed, a figure which is predicted to keep rising throughout 2021.
This will not be an easy economic recovery for any business or sector and many people are facing an uphill struggle to get back into work.
The Great Covid Career Pivot
The Building bridges towards future jobs report launched by City & Guilds Group and global labour market trends experts Burning Glass Technologies reveals that at a time of rising unemployment a third of Britons (34%) want to change careers.
But almost two thirds (65%) of Britain's working population expect the job market to be worse in 2021 than it was in 2020, and worryingly, only 16% of respondents understand exactly how their skills would be useful in another career.
According to the report, it would appear many Britons lack the confidence and know-how when it comes to recognising the potential of transferable skills as a route to changing careers. In fact, a third (32%) of those surveyed had no idea where else their current skillset might be useful and, when asked to consider changing careers to move into new industries, a third (34%) were concerned about starting over again, a fifth (21%) said they lacked knowledge of other sectors, and around the same number (19%) expressed an overall lack of confidence.
Those aged 25-34 are most reluctant to change careers, finding the lack of knowledge of other jobs (31%), worries about starting all over again (41%), the cost of retraining (21%), and the salaries of other careers (32%) more concerning than any other age group. And one in ten (11%) are seeking change because the pandemic has fundamentally altered their current jobs.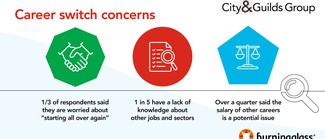 Building bridges
Despite the large number of employers reducing their workforces currently, in some sectors, demand for certain roles is surprisingly on the up. Working with Burning Glass Technologies, the report identifies the skills needed for some of the most in demand jobs in the UK and matches these skills with those of jobs that are declining as a result of the pandemic, Brexit or other workplace changes.
For example, the report notes that a customer service representative is an 'at risk' occupation however, someone working in this role could step into the role of satellite/broadband technician and could potentially be £7,291 better off. This is because there are overlapping skills characteristics between the two roles such as customer service, key performance indicators and service level agreement.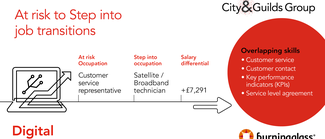 Throughout the report these 'step into' roles are uncovered. These are jobs that can serve as a progression route into a new career for those who have lost work and that allow them to build upon existing skills.
Skills Bridges
City & Guilds has launched 'Skills Bridges' to turn the tide on unemployment in the UK and help individuals who work in industries impacted by Covid-19 to switch careers into growing industries or those facing skills shortages.
The first phase of Skills Bridges is a series of three short courses focused on the social care, construction and digital & IT sectors. The Step into courses, developed in partnership with FutureLearn are available online and promote the jobs and progression opportunities on offer in these sectors.
"The UK faces a new reality, where a job for life is no longer 'the norm'. But Covid-19 has accelerated some of the changes happening in our economy and brought new ones into play. In this context, it's not easy for people to understand where their current skills and experience can be put to good use.

We want to help people realise the potential of their transferable skills, so they are able to match these up to the jobs that are still available. Our Skills Bridges programme will help people that might find themselves out of work or looking for a change to identify the transferable skills that could help them unlock a completely new career path.

If you're an employer from a growth industry, we would encourage you to take a more flexible approach to recruitment and recognise the untapped potential in people working in industries with related or transferable skills. This can offer a new lease of life for businesses and those affected by changes to our labour market, and help kickstart the economy."

Kirstie Donnelly, CEO of City and Guilds Group
We strongly believe that Step Into jobs and Skills Bridges will be a market-leading demonstration of the innovation required to help ensure that the UK has the skills and ecosystem to respond to the post Covid changing job market.
Edge produce a series of Skills Shortages Bulletins summarising latest research on the changing labour market and the skills young people need for work. You can find the full series here.
You may be interested in…