Our world is changing at an unprecedented rate, yet our education system is not keeping pace.
Global rises in population, connectivity, and crises mean that tomorrow's adults will inherit a uniquely complex political, technological and ethical landscape. Now, more than ever, the education sector must reflect on how best to prepare young people for the manifold challenges they will face. COP26 clarified that we have eight years to avert a climate catastrophe by halving emissions worldwide. This should strike education professionals as a call to action: what changes must we make this decade to set students up for success in an uncertain climate?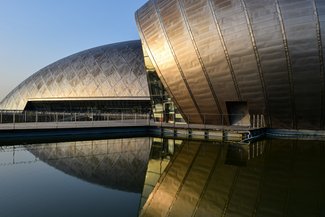 There is no single, definitive answer to this question. During COP26, politicians, youth activists and educators all put forward their respective visions, which converged upon similar themes but also contrasted in significant ways. Amidst the headlines and rally cries, this article pieces together three key lessons from COP26 for concerned education professionals.
Lesson One: Education must equip young people with "green skills" and knowledge.
Politicians, youth activists and educators all agree that educational institutions must embed green knowledge and skills into curriculum design. During COP, Education Secretary Nadhim Zahawi announced plans to integrate sustainability and climate science into STEM, geography and citizenship subjects from primary to further education levels. These measures are aligned with youth activists' call for education on the climate emergency and ecological crisis, as detailed in Teach the Future's student-drafted Climate emergency education bill. UK educators have also banded together to create a Climate Action Toolkit for the higher and further education sector.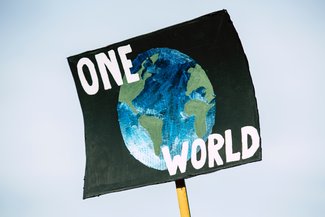 Although Zahawi's strategy seems to cater to the demands of students and educators, the government's plan to infuse climate science and technology into various subjects across year groups does not deliver "climate education" as young people or educators envision it. Both the Climate emergency education bill and the Climate Action Toolkit argue that climate change should be taught as a social, political and ethical issue, as well as scientific, and that climate justice should be incorporated into curricula for all students. However subtle, this distinction between notions of climate education is sizable, and it will be the British government that washes up on the wrong side of history. Students should learn about the root causes and injustices that led to and are perpetuated by climate change. It's not just STEM that will take us out of this mess, it's deepened historical, political and cultural awareness.
So far, the Department for Education has also taken a narrow view on "green skills". In their draft Sustainability & Climate Change Strategy, green skills are directly linked to employability and the need to supply the emerging green sector with a young workforce. Although it is important to equip young people with the technical know-how needed to power a "green turn" in the UK's economy, they will need a much broader set of skills to deal with the volley of challenges ahead. For example, evidence suggests that eco-anxiety affects most UK students – shouldn't managing anxiety constitute a green skill, along with other "soft skills" such as building empathy and resolving conflicts?
It's clear that educators must help young people develop the critical knowledge and skills needed to thrive in a climate-insecure world. For better or for worse, vague and outdated leadership from government leaves many of the most impactful decisions up to educators. What should be included in (or excluded from) curricula and how much time should be spent on climate change each week? Taking a holistic view of climate education to incorporate justice concerns will help make schools more inclusive, safe spaces for all learners. If the government can be so audacious as to predict a "Green Industrial Revolution", educators should feel emboldened to realise a "Green Education Revolution" that offers systemic and not just incremental changes.
Lesson Two: Educational institutions should become "youth empowerment hubs".
Marginalised in an electoral system that deprives under 18s of the vote, young people across the UK have taken to the streets. It is telling that students dismayed about climate inaction have had to literally leave their school premises in order to have their voices heard. This is a stark indication that schools are failing to provide the resources and support for young people facing a climate crisis. What would it take for schools, colleges and universities to become the hubs of empowerment that young people need to make the difference they want to make?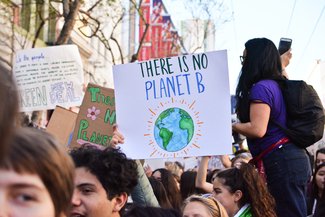 The UK government's new "Climate Leaders Award" will celebrate examples of youth leadership in tacking environmental issues, but it is uninspired. The award ultimately encourages shows of individual leadership rather than empowering young people to work together for widespread change. Awards are great for CVs, not for galvanising "mass systemic change", which is what the UK Student Climate Network demands. Similarly, embedding knowledge about biodiversity and sustainability into curricula does not equip students with the tools to make their voices heard. Aptly, it is young people themselves who have come up with compelling ideas for how to make their schools part of the solution.
In 2020, 330 young people from 140 countries gathered online at Mock COP26 to co-design their own treaty. Speaking at a COP event titled "What Does Meaningful Youth Leadership Look Like?", the Finnish delegate explained how this youth-led conference improved upon official COP processes by making them more inclusive and equitable. Changes included amplifying the voices and decision-making influence of those most affected and marginalised, and confronting "uncomfortable truths" about global injustices pertaining to climate change. Unlike the official COP26, these young delegates did not allow lobbyists or political self-interest to corrupt their negotiation. After drafting their treaty, delegates were motivated and empowered to meet with local politicians to affect national policy.
Education professionals truly wanting to see young people empowered as changemakers can learn from this model and tailor it to the school level. Schools could host their own Mock COPs and even band together in an annual COS (conference of the schools), which could be co-organised by students and school climate coordinators – a position that four education unions recently demanded the government instate. At COS, the Blue Zone of official COPs could be rebranded as the "Blue Sky zone" to encourage students to innovate their own approaches to problems they will inherit through adult inaction. By creating spaces that enable young people to deeply engage with climate change, design their own protocols, and develop proposals for national policies, education institutions can become places youth go to (not flee from) in order to enact change.
Lesson Three: Education must help young people forge genuine connections with nature.
Lastly, politicians, educators and young people again agree that students must be given opportunities for meaningful engagement with nature. On this point, the government's proposal to launch a virtual "National Education Nature Park" that encourages pupils to boost biodiversity in their school grounds is uncharacteristically imaginative. Linking all education estates into a single online entity is a novel idea that could help young people collaboratively tackle falling species abundance nationwide.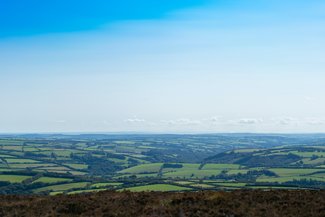 This initiative will complement the myriad environmental education initiatives already sweeping the sector. Organisations such as Learning through Landscapes and Grow have emerged in recent decades to help youth connect with nature through outdoor learning experiences. By partaking in these initiatives and utilising resources from organisations, educators can ensure that students enjoy (and not just worry about) the environment. It's not outlandish to consider shortening school hours – as the Scottish Children's Parliament recently advocated for – to give students more time to grow food, plant trees and be in nature. It's bold, youth-led changes like these that could simultaneously educate, empower and nourish young people into adulthood.
Sustainable Education Summit
Join us for a unique one-day summit for school leaders and their student leaders to work together on strategies for change.
Kayla Cohen reporting for Edge from COP26.
Kayla Cohen is a writer and environmental researcher focused at the intersection between climate change, environmental education and justice. She is currently working part-time at the University of Manchester and the Edge Foundation.