The Edge Future Learning team has spent the last several years learning from education trailblazers around the world about the most promising practices for bringing learning to life.
Our model, which includes three key ingredients, is founded on strong evidence from academic literature as well as leading practice that shows how educators are creating learning experiences that are more engaging, relevant, and connected to the real world.
A big part of our work now involves helping others build these capacities into their own contexts while nurturing the budding community of deeper learning institutions and practitioners across the UK.
EFL on tour! Deeper Learning USA 2022
To get a flavour for what deeper learning is all about, three EFL colleagues – Allie, Laura, and Sam – joined EFL Partners High Tech High, Envision Learning Partners, and PBL Works at the annual Deeper Learning Conference 2022 in San Diego California.
Started back in 2013, Deeper Learning is more than a conference. The depth of dialogue, reflection, and inspiration is focused on building a movement that catalyses educators toward collective and transformative action. This sense of shared purpose was certainly palpable.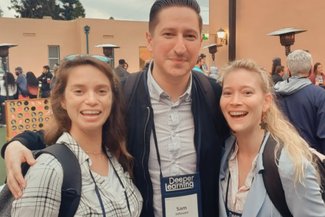 The conference spanned three days and admittedly felt more like an education festival – a chance to connect with and celebrate the work of hundreds of educators who are placing passion, purpose, and agency at the centre of schooling. There was live music to set the mood, food trucks with delicious local Baja-style options, and an overall, permeating sense of possibility; of hundreds of hearts and minds ablaze with passion and purpose.
A Deeper Learning Experience
At the conference, we were immersed in the type of learning experience we want all students to have. Sessions incorporated strategies to foster self-discovery, a sense of community, oral, written, and artistic expression, and opportunities to share our work, stories, and selves with others. Facilitators intentionally designed sessions to be meaningful, informative, and applicable to the classroom, workplace, and beyond.
In a 90-minute session entitled "Architecting Connectedness, Creativity, & Joy," Allie learned about ikigai, a Japanese concept combining iki ("alive" or "life") and gai ("benefit" or "worth").
"To uncover our own ikigai, we considered the intersection between what we love to do, what we're good at, what the world needs, and what we can get paid for, then worked in small groups to architect a powerful experience that helps young people uncover their ikigai and discover the types of environments and activities that will allow them to function at their highest capacity."
On the second day, Allie joined a deep dive session led by Habla Teacher Institute:
"We pushed the envelope of storytelling by embracing literacies beyond written and spoken word through art, theatre, and movement. We welcomed myriad languages and cultures and recognized the beauty and necessity of a plentitude of narratives. The lessons I learned from other participants and through my own self-discovery will stick with me for the rest of my life."
For his deep dive, Sam chose a workshop entitled "Let's Put On a Show!" that tied together creativity, storytelling, equity, and music. It was a creative session which heavily focused on expression through story with the objective being to re-engage our creativity as a co-creator of a musical in just one day!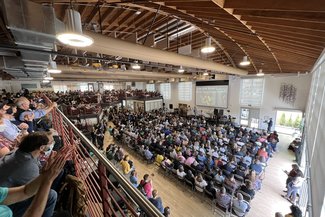 "We delved into the real-life story of a homicide that took place in San Diego back in 1995 involving a 14-year-old boy named Tony Hicks who murdered an innocent 20-year old man named Tariq Khamisa.
Over the last 25 years Tariq's family have found it in themselves to forgive Tony and have recognised that he was also a victim in this tragic incident. Since then they have collectively formed The Tariq Khamisa Foundation, with a mission to create safer schools and communities through educating children in the restorative principles of accountability, compassion, forgiveness, and peacemaking.
In the session we were put into groups and given the incredible task of writing a song from the perspective of one of the many people involved in this story. My group was given the opportunity of writing a song about Tariq.
Before we started writing we were very lucky to have a surprise visit from Tariq's older sister Tasreen, who helped us gain more of an understanding of her road to forgiveness and the steps she took to start the foundation. Tasreen also held a Q&A session where shared stories about her brother's life, interests, and goals, as well as reflecting on the years surrounding the event.
My group decided to write a song called 'Time' which was inspired by one of Tariq's life philosophies: how we should all use our time more wisely as it is the most precious commodity known to us.
It was such an empowering experience to work with people from a variety of different backgrounds and watch them leave their comfort zones with the encouragement of their peers, all new people they had only met that day.
At the end of the workshop all of the groups had the opportunity to perform their songs in the main hall for all the conference attendees to watch. This was the most rewarding end to a truly inspiring day and I felt so privileged to have the opportunity to share Tariq's story and help keep his memory alive."
What is Deeper Learning? Why should it be a central tenet of education?
Deeper Learning has emerged as an umbrella term that encompasses a variety of attributes and approaches that push schools beyond rote learning and shallow testing. It evokes the kind of significant learning experiences that stick with us long after we leave school.
Deeper Learning practices focus on the whole person, fostering a range of cognitive, intrapersonal and interpersonal competencies that help students develop significant understanding of core academic content, exhibit critical thinking and problem-solving skills, collaborate and communicate powerfully, and ultimately become leaders of their own learning. All qualities that will help them thrive at school, in work, and throughout their lives.
A growing movement of schools, colleges, and universities around the world have embraced these principles and are showing what powerful and purposeful learning can look like across different settings. Across an ocean of difference, these institutions are all committed to prioritising experiences that are engaging, relevant, and meaningful. They encourage students to create beautiful, original work through engagement in interdisciplinary, collaborative, real-world projects.
It's no wonder that students are more engaged! We know that when students participate in high quality project-based learning, they have the opportunity to address problems that are important to them and their communities. This blend of content mastery, meaningful work, and personal connection, creates powerful learning experiences – both in terms of academic achievement and students' personal growth.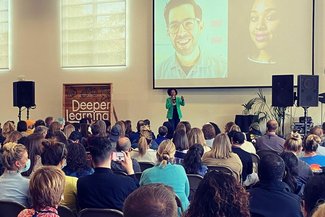 What's next? Deeper Learning UK!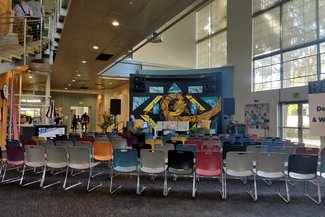 Over the next few years Edge Future Learning will be working in partnership with High Tech High and a coalition of UK-based education leaders to bring together a community of practice here in the UK to explore what it would take to build a system in which deeper learning becomes the norm rather than the exception.
"Education is not the filling of a pail, but the lighting of a fire" - W. B. Yeats