I remember it well. I was on summer holiday and I received an email asking if my school, Excelsior Academy, would like to take part in a new education pilot. The programme, Edge Future Learning, was trialling innovative approaches to preparing students for 21st century life and work. Excelsior is located in the west end of Newcastle, an area of high deprivation and high youth unemployment, so we snapped up the chance.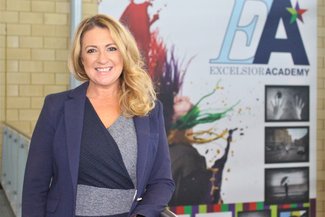 Before long, my colleagues were over in Nashville, Tennessee, exploring schools there that had been transformed into career-focused academies. It was clear pretty early on that we couldn't transplant Nashville into Newcastle. We have totally different education systems. But Edge, the North East LEP and their coaching partners from the US, Ford NGL, are forces to be reckoned with! Visiting Excelsior, they helped us develop a strategy inspired by what we'd seen in Nashville.
A key question for us was: how do we engage our community and local business in preparing students for the world beyond school?
We undertook several visioning days with Scott and Starr from Ford NGL. These were brilliant. They connected local businesses, charities, governors, parents, children, teaching staff, non-teaching staff… the list goes on. The workshops resulted in our roadmap and graduate profile, which carefully outline the attributes we agreed that our young people need to succeed in life – skills as important as their academic qualifications.
Early on, there was uncertainty about where the process might lead. So we began with something achievable – we introduced project-based learning at Key Stage 3. This was a three-hour slot, one day a week, for all students. In preparation, chosen staff worked with Ford NGL to develop a curriculum focused on local business needs. We scheduled dedicated time for this so that staff would have a chance to work on it. This was very new for all of us, so we had to give them capacity.
At Excelsior, over 50% of our students have English as an additional language, so we also wanted to emphasise oracy. We designed projects that incorporated lots of group work, research and presentations. We hoped this would develop communication skills and improve their employability. An Industry Alignment Officer also set up connections between staff and local businesses to develop an employer-led curriculum.
In the first year, we ran three projects on the themes of homelessness, regeneration and renewable energy – issues that young people immediately connected with.
The impact has been huge. Through student voice we've learned that those three hours a week of project-based learning are the students' favourite. It's given them freedom, flexibility, and an opportunity to learn in totally new ways. We also measured attendance and behaviour on those days. Both had improved. This new curriculum has given students the opportunity to make connections between their learning in the classroom and how this is relevant to the world of work and real life learning.
As a trailblazing school, we were thrilled when the North East of England was chosen as Ford NGL's first official community outside of the United States. This was marked by two days of workshops and an event on The Quayside, a regenerated area of Newcastle. There was so much interest in our work. Two busloads of people from around the world came to tour Excelsior and the other schools in the pilot! But it wasn't just a celebration. It was a culmination of the hard work and dedication of the staff and the students' work – pupil representatives from each school stood up to share their experiences in front of a whole room of people. Oracy in action.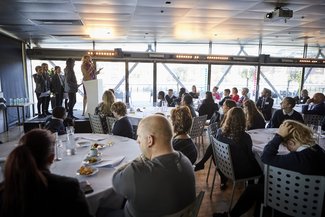 As one of the first schools on this transformative journey, what would I advise others?
Firstly, know where you want to go. Developing a clear roadmap will keep you focused. Secondly, accept that it's a slow process. We realised early on that we couldn't do everything at once, so we chose one thing we could reasonably achieve. For us, that was project-based learning. Finally, hold your Industry Alignment Officer – perhaps in your context your Careers Leader or employer engagement manager – close! I can't express how important ours has been for engaging local business. The project wouldn't have worked without them.
While the pandemic has obviously had an impact, we've managed to adapt project-based learning really well. Pupils are currently doing virtual project work on the themes of mental health and resilience. And when the situation allows, we're planning inroads into Key Stage 4. One idea is to target the students most at risk of dropping out of education, training or employment – we'll talk to them, figure out their interests, discover their barriers to learning, and then match them with an industry mentor to prepare them for the future.
But whatever our future holds, we'll never forget where we started. Edge has provided us with a unique opportunity to explore education in a different context and work with inspirational educators. We've also had the opportunity to spend some quality time developing key stepping stones to ensuring all of our young people at Excelsior are equipped with the employability skills to be successful in their adult lives.
Claire Goodwill is Vice Principal of Excelsior Academy in Newcastle.