Although it's impossible to lift a successful pedagogical approach directly from one national context into another, there's much we can learn from practices and principles that have proven effective elsewhere.
Edge recently undertook a virtual study visit to Singapore to identify novel approaches to Higher Education. With 34 universities (a huge number for a nation of its diminutive size) there was plenty for us to learn from!
Here are just a few ideas that captured our attention.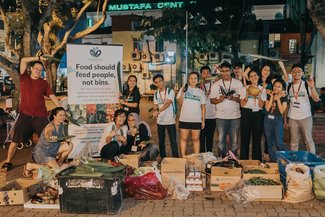 An experiential university driven by social impact
Edge met with Dr Meen Sheng Yap, Director of the Centre for Experiential Learning at Singapore University of Social Sciences (SUSS). As the youngest of Singapore's six state universities, SUSS focuses on preparing the country's workforce. Fewer than 25% of its students are full-time undergraduates.
However, much like Quest University in Canada, the curriculum is highly experiential and community-focused and the university is set up to provide leadership in areas of social development. This is so ingrained in their culture that their primary measures of success are not just about employability statistics, graduate job placements or entry-level salaries, but social impact.
During their time at SUSS, full-time students must complete five mandatory experiential modules. The first is a credit-bearing experiential teambuilding programme to develop foundational aptitudes in self-awareness, team effectiveness, and community-mindedness. The second is a minimum 24 weeks 1-to-1 career-mentoring programme. The third is an overseas experience focused in ASEAN, China and India. The fourth is service-learning and community engagement in sectors like sustainability, diversity and inclusion, etc. Finally, students must develop an e-portfolio. Combined, these approaches aim to create well-rounded graduates broadly prepared for an unpredictable future. The SUSS team talked us through some of these approaches in more detail.
Career development
SUSS's career assessment programme includes six months of mandatory training with a specialist mentor in each student's study area. Mentors are not academics but professionals who have transferred into higher education from industry. They train students to search for jobs, write cover letters, produce resumes and build digital portfolios. Students also receive mentoring in digital and data literacy, sustainable development, entrepreneurial mindset and ethics in Artificial Intelligence. An expert assessor evaluates them on analytical, communication and presentation skills. Subsequently, their grade is listed on a transcript for future employers. While the programme is not credit-bearing, completion is required to graduate.
Overseas experiential learning
While Singapore is globally connected, our local students may still have limited understanding of the diverse culture and practices. As such, another requirement for all SUSS undergraduates is to travel abroad to at least one other country, particularly in ASEAN, China and India. The objective is to give students first-hand experience of different cultures and ways of working. Students are deliberately placed outside their comfort zones to help broaden their horizons. In addition, the university runs social impact programmes allowing students to collaborate with and learn from NGOs or social enterprises overseas. This is not simply a one-time webinar but up to a three-week project. Language and cultural differences are challenging but the experience cultivates greater openness and a realisation that learners share more similarities with their counterparts than differences.
E-portfolios
SUSS's unified e-portfolio platform, Portfolium, is linked to the university's learning management system. Students' e-portfolios act as a lifetime account of their academic and non-academic careers – a place where they can accrue artefacts from their education. The e-portfolio focuses on four core areas: career readiness, active citizenship, college achievement and continuous learning. While useful as an evidence base for employers, it's also intended as a lifelong learning development dashboard. Learners maintain it throughout their careers and it acts as a reminder of the resources available to them, should they want to upskill or retrain. In this way, the portfolio has lifetime value and is something that learners can continue updating long after graduating.
Teaching data analytics to arts students
Finally, for a novel approach to cross-disciplinary education, we spoke to Jonathan Y. H. Sim, an Instructor from the Department of Philosophy at the National University of Singapore (NUS). In a push for greater interdisciplinary training, NUS recently introduced computational thinking as a core requirement for all students, regardless of discipline, to equip students with problem-solving skills for the 21st century. Jonathan now teaches arts and social science students a course called, "Computational Reasoning," an interdisciplinary module teaching coding and data analytics, as well as philosophical critical thinking skills to be effective problem-solvers. It not only teaches students the basics of.
This is not without its challenges. Students come into the module with high levels of anxieties, worried that their unfamiliarity with the subject will affect their grades. This presents psychological barriers to effective learning. His top priority is to alleviate anxiety and mental barriers to this technical subject with a combination of interactivity and humour. In Jonathan's words: "It's hard to feel anxious when you're laughing!"
His techniques include humorous, interactive stories that teach the practical processes behind data analytics, quizzes and group projects that focus on real-world scenarios (for example, how to devise classification models to determine which hospital staff should receive a vaccine against a virus). Similarly, students learn to code by developing a maze game in Excel. While this teaches the same mechanics as other algorithms, it does so in a more relatable way. Jonathan's focus on humour and social solutions act as a distraction from the more 'technical' aspects of the learning, with students feeling both a sense of accomplishment and pride in the works the produce.
Research suggests that similar principles to these could meet success in the UK, too. For more details, check out Edge's evidence base.