We are pleased that the government has recognised the urgent need for funding for FE, arts, and skills development. However, on closer inspection, over 5 years the actual spend works out far less substantial and focuses on capital spend rather than staff and teaching, which is the real issue. So while we would welcome this investment, we need to highlight that without a significant increase in revenue funding for salaries in particular, FE colleges are going to continue to struggle to recruit high quality tutors.
See graph taken from Our Plan for FE which will be published by Edge later this month. It highlights the decline in FE college sector income since 2009.
Edge also welcome funding for apprenticeships however we would want to see rapid action to address the discrepancy across funding for SMEs and larger firms to ensure SMEs benefit equally from the pot.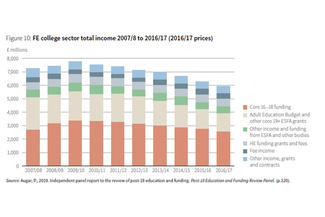 You may be interested in…