Maryam is one of the first winners of the new prestigious journalism awards ceremony for the Campaigning Journalist of the Year, sponsored by The Edge Foundation, with Gavriella Epstein-Lightman coming runner up.
Maryam has won the Campaigning Journalist of the Year, sponsored by The Edge Foundation at the Global Young Journalist Awards, a youth journalism award ceremony set to become a leading award worldwide. Gavriella Epstein-Lightman was named runner up. Created by daily online newspaper The Day, these awards are a brand-new way to inspire future generations of journalists to build a better world through storytelling, something fitting with their core mission to inspire children to think critically and engage with the news.
With over 500 entries from all around the world, Maryam managed to secure the title of winner of the Campaigning Journalist of the Year for her outstanding effort. With a panel of famous journalists, from TV broadcaster Ayo Akinwolere and the BBC's gender and identity correspondent Megha Mohan to the FT's top data journalism developer Ændra Rininsland and Guardian columnist Afua Hirsch, and even actress Tina Fey, Maryam's work was selected out of a huge number of hopeful future journalists as the winning entry for this category.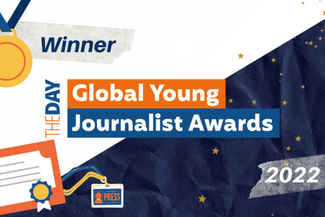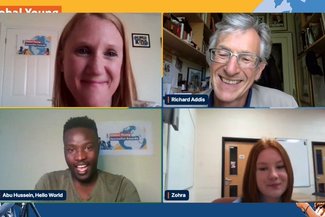 The Global Young Journalist Award winners are to receive a trophy, certificate and their entries are now published on The Day's website. Secondary school winners will also get a place on The Day's Student Advisory Board for one academic year. Both winners and runners-up for our secondary school categories will gain a day's work experience in a national newsroom, kickstarting a passion for journalism.
Competition sponsors included The Fairtrade Foundation, Edge Future Learning, Oddizzi, Brainwaves, National Literacy Trust, and Hello World.
Maryam said:

"Winning has been so exciting for me. I enjoyed writing this article, and researching a cause which I felt strongly about, and I am so grateful for this opportunity."
Laura Hay of the Edge foundation, who was a judge for the competition, said:

"The point of the Campaigning Journalist of the Year category was for young people to tell stories that really matter to them and their community, offer insights on the issue, but also offer a more balanced perspective by also offering solutions. By writing about both problems and solutions we can begin to see and understand the whole story.

Maryam did an excellent job of communicating the prevalent issue of period poverty in the UK. I hope she continues to develop her voice and speak up on issues that matter."
Tom Clark - judge for Science & Technology Journalist of the Year and Science and technology editor at Sky, said:

"Some fantastic entries, all the shortlist that I had the good fortune to look at showed brilliant topics, newsy interesting topics, and they also showed a real flair for language and storytelling."
Edge is so proud of Maryam and Gavriella for their fantastic achievements and we wish them all the best for a successful career in journalism!
To register your interest in next year's awards, visit www.theday.co.uk/gyja2022