Kayla Cohen, a former student at Minerva Schools at KGI and intern at the Edge Foundation, is currently studying for a Masters in Environment and Development at the London School of Economics.
As countries around the world ask businesses to close up shop to stop the virus from spreading, schools remain open. This sends a clear message that, even in the worst of times, education must be prioritised. Many governments and international organisations agree that education is vital for the wellbeing of children, future economic prosperity, and the reduction of poverty worldwide. As a newly enrolled Environment and Development master's student permitted to attend in-person seminars, I am a beneficiary of these views and I think it is positive that, in the midst of a global crisis, we continue to make forward-thinking investments in young people's futures. However, as some of the 1.6 billion students temporarily barred from schools return, a second crisis continues to come to the boil: climate change. If countries really want to ensure economic and social prosperity, it is not enough to prioritise education. Educational institutions need to prioritise environmental learning.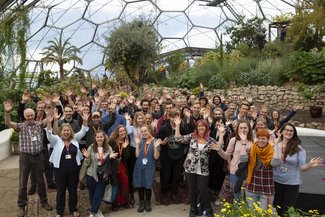 Scientists have warned that urgent progress must be made this decade if we are to curb the worst of global warming. Alongside cutting carbon emissions, efforts should be made to equip students with the skills, know-how and values necessary to deal with climate change. Parents and teachers agree, as Edge's polling this summer shows. We no longer have the privilege of slotting sustainability into the odd geography or science class, as the UK government continues to insist. I speak from experience when I say that it is more difficult to understand the complexities inherent to the global climate crisis having never studied these topics at school. Climate change is an interdisciplinary subject that touches on social justice, economics and policy, as much as it does science. In other words, it's a fantastic learning opportunity to explore the interconnected nature of environmental and socio-economic issues. And, judging by the turn out for school climate strikes all over the world, it seems that this is an opportunity students want to take. So, what can schools do to meet their students' demands?
This is the question that education charity the Edge Foundation will highlight in its annual lecture, "Seeding Change – the environment as a context for learning." Airing online this week, the event brings together a panel of education-innovators offering fresh ideas for how to connect learning with the environment. Keynote speaker Sir Tim Smit, co-founder and Executive Vice-Chair of the award-winning Eden Project, will build on his experience of transforming sterile land into a world-class horticultural site and environmental learning hub.
The Cornwall-based education charity, with Seed Funding by the Edge Foundation in 2014, established a suite of Higher Education and Apprenticeship programmes, providing the students an alternative study environment. With Eden Project as their campus, the students are encouraged to apply their unique skills and interests by working directly with industry. Subjects include Horticulture, Garden and Landscape Design, Plant Science and Land and Ecological Restoration. This range of programmes is delivered through a Partnership with Cornwall College and awarded by the University of Plymouth.  Excitingly, this is probably the greatest number of Higher Education horticulture students in one place in the UK, with a year-on-year increase of students reflecting the need of this novel approach and topic area. The students and alumni come from diverse back grounds, nationalities and age groups and are ambassadors for influencing a more sustainable future.  Activities complement Eden Project's other education programmes including Schools and community outreach.
What's more, until governments get their act together and integrate the global climate emergency into national curricula, the Eden Project can be relied upon to provide students with online, on-site, or school workshops that teach sustainability in a practical context. In the Edge Funded Horticulture Advocates Programme (HAP), Year 9 and 10 students from local Secondary Schools have been taking part in 10 environmental and horticultural challenges delivered in a Saturday-University setting. This project includes Teacher CPD training and is envisaged to be rolled out across a wider geographical area. Soon to expand to every habited continent on Earth, the Eden Project offers a truly visionary plan for infusing education with the joy of nature-play and a sense of environmental responsibility for the betterment of the world. 
Another promising initiative celebrated at Edge's annual lecture will be GROW, a programme founded in 2018 by former TV presenter George Lamb. With ambitious plans to grow itself, GROW currently offers Year 7 and Year 8 students the chance to visit a farm site in North London where they can learn farming, yoga, boxing, and mindfulness. Similar to the Eden Project, GROW recognises that the benefits of outdoor learning extend beyond physical to mental and social health. Its suite of activities helps to prepare young people for the challenges that lie ahead, which may include food insecurity and collaboration at an unprecedented global scale.
The future of environmental learning as envisaged by these organisations is neither dreary nor fearmongering. Rather, it's fun, healthy, and intellectually enriching. Worldwide, childhoods are being rocked by a series of global crises – be they recessions, pandemics, or climate change – and schools should not provide an unhelpful refuge by avoiding such subjects, nor should we teach real-world issues in a purely academic way. As the Eden Project and GROW exemplify, preparing young people for climate change is inextricably linked to developing the social and mental skills required to be happy and effective – something that is also central to Edge's new strategic partnership with global charity Ashoka. In solving the climate crisis, which was arguably borne of a widespread estrangement from nature that enabled unsustainable actions, schools can play a key role in nurturing young people's relationships both with each other and with the natural world. 
The Edge Foundation's annual lecture will be held online at 1.30-3pm on December 9th, 2020. You can book your place at the event here.