There are many advantages for employers to engage with education and many opportunities for you to do so from primary through to higher education. Edge have produced an Employers Guide to help navigate and understand the opportunities.
As an employer you may also have your own reasons to engage with education. Community engagement may be part of your company's strategic plan or you may simply want to reach out to the local community to raise the profile of your sector, the jobs within it and highlight local opportunities to the future workforce helping to address skills gaps and build your talent pipeline.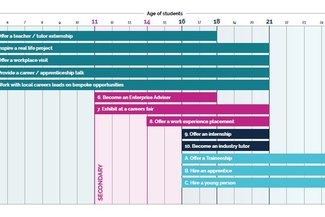 Working with young people can provide a great sense of achievement, can be very rewarding and can offer your staff the opportunity to develop their skills through mentoring or simply supporting a work related activity, in turn, giving back to the local community. We know this can also be really motivating and inspiring for students, particularly for those from more disadvantaged and challenged backgrounds and can increase their future employment prospects.
Here are some advantages for employers to engage with education:
Raise your community profile and contribute to the corporate, social responsibility agenda.
Support personal development of your staff and support CPD by giving back to the community.
Build long term partnerships with schools to support future recruitment of young talent.
Inspire the future workforce.
Help develop generic work skills, attitudes and behaviours in young people.
Raise sector awareness.
Help bridge the skills gap.
Help support and develop a future talent pipeline.
Whatever the motivation for your business to engage with education you will have a positive impact on students, inspiring the next generation whilst increasing the awareness of your business and its sector.
Edge has supported employers to engage with real world learning, hosting a Teacher Externship. You can find out more on our Practice Dashboard.
"Wonderful experience being able to help the teachers and help them understand what employers expect within various positions of employment. This may help schools to input this information into the curriculum, which will hopefully prepare young people better for when they go out into the 'real" world!''
"It's a great way to provide teachers with access to areas of business which they might not have had access to in the past. Connecting with the private sector and working with them enables the teachers, and educational institutions as a whole, to bring the best learning and development opportunities to their students. It was an honour to be part of this pilot and I look forward to working with The Edge Foundation again in the future.''