Authors: Susan James Relly, Gavin Killip, James Robson, Kat Emms, Mike Klassen, Andrea Laczik
The construction sector is crucial for the drive towards net zero, a greener economy, and a greener future, and is one of the key industries highlighted in the recently published Green Jobs Taskforce report (Green Jobs Taskforce, 2021). This focus is understandable given buildings are responsible for a substantial proportion of global carbon emissions during their construction and throughout their lifetime via their energy consumption.
The need for green technology deployment leads to a focus on skills in Science, Technology, Engineering and Maths (STEM) subjects or technical skills linked with specific emerging technologies. However, STEM skills are not the only ones that are needed; good communication, leadership skills, professional integrity, general business and administrative skills are also required. Understanding the skills required, demanded, supplied and deployed for a greener economy is essential.
This report, therefore, maps out the relationship between the skills required for a greener future in construction and the education & training landscape. It is the result of a literature review, document analysis, and a stakeholder workshop with 40 participants providing insights into the issues surrounding the supply of employees with both the technical skills to engage with relevant green technologies and the broader employability, interpersonal and flexible skills to work in a transforming industry such as the construction sector.
The key outcomes of this research are:
A broader conceptualisation of the skills required for a greener future: our research has highlighted that a simple focus on only technical skills fails to capture the demands of complex building sites and the need for greener construction and business practices. Therefore, in relation to both initial training and CPD, education and training programmes should aim to work with the following framework:
An emphasis on CPD: this analysis has highlighted the critical importance of ongoing professional development for everyone involved in the construction sector, particularly training undertaken in a meaningful and sustained manner that goes beyond simple 'bacon butty briefs'.
Training structures and incentives for SMEs, micro businesses, and self-employed contractors: CPD means time away from site, which is challenging and costly and often hits smaller organisations hardest. There is therefore a need to provide meaningful incentives for CPD, potentially compensation, and to structure ongoing education and training at times that will fit around standard working days.
CPD for those involved in delivering training: given the changing nature of the sector, it is essential that those involved in delivering training received adequate professional development to stay up to date in relation to technical developments, but are also able to support the development of broader employability skills and sustainability-oriented and CPD-oriented dispositions.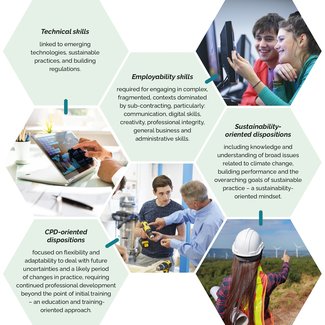 Stronger strategic partnership arrangements: there is a clear need for greater strategic co-ordination between skills providers and industry with more effective working relationship between FE colleges and employers so that emerging skills needs can be responded to within the skills formation system in an agile manner and the pathways through initial training and CPD can be drastically simplified.
Greater regulation: the construction industry in the UK and associated education and training pathways are relatively unregulated compared to other international skills systems. Closer regulation would both ensure skills demands are being appropriately met while also contributing to driving the changes in culture and practice required for a more sustainable future.
You may be interested in…