The aim of the Climate Change Message in a Bottle project was twofold: to educate island school children about climate change and to empower islanders to share their perspectives with decision makers. These aims resonate with Edge's mission to integrate environmental education into curricula and to equip students with changemaker mindsets. Project lead Bethany Walsh, together with the Strathclyde team, designed a three-part educate-generate-disseminate approach to meet these goals. The 29 participating schools were provided with an hour-long interactive workshop about climate change, renewable energy and COP negotiations. During the workshop, children were encouraged to write "messages in a bottle" placards that stated their COP26 demands. To ensure their voices were heard at the conference, messages were digitized and captured on an online map and some were featured in a 30-minute film about the project that was screened at COP side events to an audience of education professionals, politicians and project participants.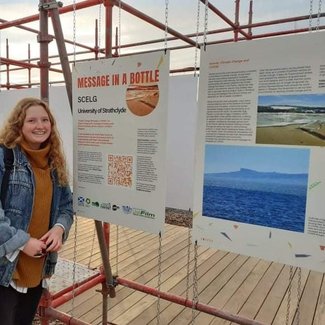 A third (unofficial) aim of the project was to give island youths the opportunity to deepen their connection to place. Bethany recounts, "some of my most important memories are from doing trips outside of school. I don't have many memories from being inside school." At the end of the workshop, students were given the option to go to their local coastlines and do a beach clean. For Bethany, who grew up on the Isle of Arran, it was particularly poignant to see the next generation of youths caring about her island, especially in the face of imminent coastal erosion. She reflected, "that was a really important part of the project - that they get to go to the beach and think about sea level rise there and… feel a responsibility for their own island spaces". The plastic that students collected from the beaches was recycled into a three-meter-high sculpture exhibited at Taigh Chearsabhagh Museum and Arts Centre.
To leverage local expertise, most of the workshops were delivered by "Island Champions" who lived nearby the schools. Scottish Island Champions were found through Youth Scotland and word of mouth, whereas international workshop leaders were identified through the Island Innovation's ambassador program. "A lot of the time with island-based things it's by word of mouth," Bethany shared, "that's how we did it. People know people who would be a good match… They are pillars of the community and have good contacts with schools". The island champions met each other online at the onboarding sessions. Teachers who chose to lead the workshops themselves also benefited from new connections with educators on different islands facing similar environmental issues.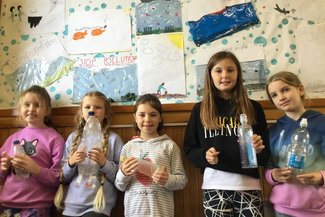 Although participants came from countries spanning the Global North/South divide, a thematic analysis of the messages revealed island youths shared similar worries and demands for the future. "We had five main themes that came up," Bethany explained, "renewable energy, fossil fuels, demands for political action, marine pollution and deforestation." Significant differences in the messages could be gleaned as well. For example, while Solomon Islanders highlighted increased cyclones and extreme weather changes, schoolchildren living on Scottish isles expressed concern that coastal erosion could disrupt traditional crofting practices. Island youths were able to see each other's messages and share in their "common islandness" at an online viewing of the film at COP.    
The Climate Change Message in a Bottle project was showcased at three side events during COP26. The first event was at COY16, a summit for young delegates organized by the United Nations. Delegates from Malta, the Maldives and other small island states were especially inspired by the schoolchildren's call to action. The second event premiered the film by Andy McKinnon and invited project participants to ask questions to guest speakers Francesco Sindico, co-director of SCELG, and James Ellsmoor, the CEO at Island Innovation. The final event was hosted in-person in Glasgow and members of the Scottish Parliament Clare Haughey (the Minister for Children and Young People) and Alasdair Allan (representative for the Na h-Eileanan an Iar constituency) attended. Clare commented, "What an absolutely phenomenal movie that was. I am in awe of the ideas and the inspiration that those children have brought to the film, and the amount of thought that they've obviously put into their world, their islands, and the impact that climate change is having on them." Alasdair praised how "young people are using COP26, quite rightly, to provoke and remind an older generation of what climate change will mean for them." Their responses, together with those from the public and COY delegates, will be reported back to participants in a post-COP26 workshop.
This project stands out from other island networks fighting for climate action because it unites young people from around the world. Although Scottish islanders benefit from privileges that their counterparts in small island developing states do not, their perspectives are often marginalized in mainstream, mainland-centric politics. Whereas students from small island states have banded together to create a formidable united front, off-mainland islanders are decentralized and lack a cohesive voice. By assembling islanders' messages at COP26, the SCELG team successfully brought peripheral perspectives to mainland consciousness. This mission is aligned with Edge's Island Education Network that connects researchers and practitioners across the British Isles and in British Overseas Territories to discuss the opportunities and challenges endemic to education in island settings.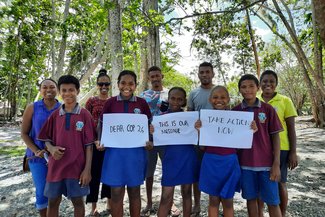 The project is far from over. Its next phase, co-designed by teachers, will center around unearthing and articulating island youths' visions for the future of their respective homelands to ensure that islands aren't just at the frontline of climate change but at the frontier of place-based solutions.