New research commissioned by the Edge Foundation over the summer found that 62% of 14 – 19-year-olds think that coronavirus has changed teaching and learning in schools forever.
Many feel that their school or college needs to incorporate some of the 'lessons from lockdown' into the long term, with 84% of 14 – 19-year-olds having the opinion that schooling needs to be more flexible and adapt more quickly as a result of the pandemic and 64% thinking that the future of schooling should include both classroom and online learning.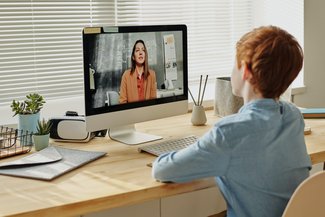 As the impacts of lockdown are felt in the wider economy, 70% of 14 – 19-year-olds think the education system needs to catch up with the real world and 76% want their education to be relevant, focused on giving them the tools and skills they will need in their career. This is supported by 76% of parents and 86% of teachers who also want children's education to be inspired by real world issues and civic engagement.
'Learning through doing' is a method that 83% of parents would like their children's education to include more of and 90% of teachers think it's important to offer their pupils and students the opportunities to learn through practical, real-world scenario. In fact, 81% of teachers agree it would be useful for them to spend time in industry in order to bring their teaching and career guidance to life, something which the Edge Foundation offers through their teacher externships.
Edge Chief Executive, Alice Barnard and Olly Newton, Executive Director have been discussing the research findings and offering their insight to broadcasters this week as pupils prepare to go back to school following the summer holidays.
About the research
The research was carried out online by Opinion Matters throughout 11.08.2020 - 13.08.2020 amongst 1,000 14 – 19-year-olds across the UK. All research conducted adheres to the MRS Codes of Conduct (2010) in the UK and ICC/ESOMAR World Research Guidelines. Opinion Matters is registered with the Information Commissioner's Office and is fully compliant with the Data Protection Act (1998).
The additional research amongst teachers and parents was conducted by YouGov in May 2020.
You may be interested in…