Policy Connect's cross-party Skills Commission has presented its latest report, Transition to Ambition: Navigating the careers maze. Co-chaired by Nicola Richards MP (Con), Lord Jim Knight (Lab) and Dr Siobhan Neary (University of Derby), the report examines the careers information, advice and guidance system in England, and how it supports transitions into employment.
This is a timely report that explores England's careers information, advice and guidance (CIAG) system. It calls for a system that works efficiently so that as many people as possible can be properly supported with their transitions into employment. The CIAG delivered to young people and adults inside and outside education is crucial to tackle England's persistent skills gaps and workforce shortages.
The report outlines 9 recommendations including:
Government setting the framework for a stable, longer-term careers strategy.
That careers advice and guidance should be a constituent part of all Plan for Jobs schemes, to ensure that these schemes are as useful as possible for those undertaking them.
That lifelong learning loans must be made truly flexible.
Better communication of the existence and services of the National Careers Service, to ensure take-up of its services by all those who need careers advice and guidance.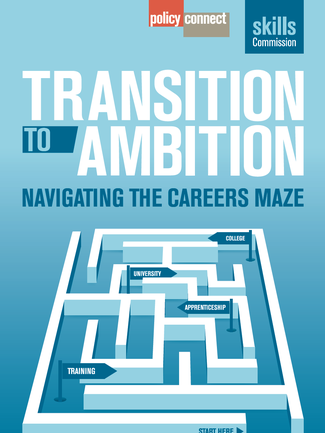 You can read policy connect's full press release here.
At Edge, we have long been advocating the importance of good quality careers guidance so that young people can understand the breadth of career opportunities. This should be embedded throughout the school career, and particularly important here is benchmark 4 of the Gatsby benchmark – integrating careers into the curriculum where we need to place careers at the centre of curriculum, through real examples that help bring learning to life.
Our Edge Future Learning team continue to support the principles of Community connected learning, Real world learning, and Project Based Learning to help bring learning to life in schools and colleges up and down the country. Our teacher externships model helps to connect. Our first "Learning from the Past" reflections piece focused on Connexions and the lessons that we can learn in current policy making. Our recent grants support projects such as Careers Re-wired by the Barbican and My Hospitality Life by the Edge Hotel School, both of which integrate good careers information, advice and guidance.
But more than anything, we need to remove the pressure on young people. Rather than pressuring them with career decisions and choices on what career path to take, we should reframe the narrative. Let's start asking our young people "What inspires you" and from this "Who would you like to be" and "How can we get there"? In this way we can support our young people to celebrate their existing skills and talents, and pursue a lifetime of fulfilling, sustainable work.
You may be interested in…